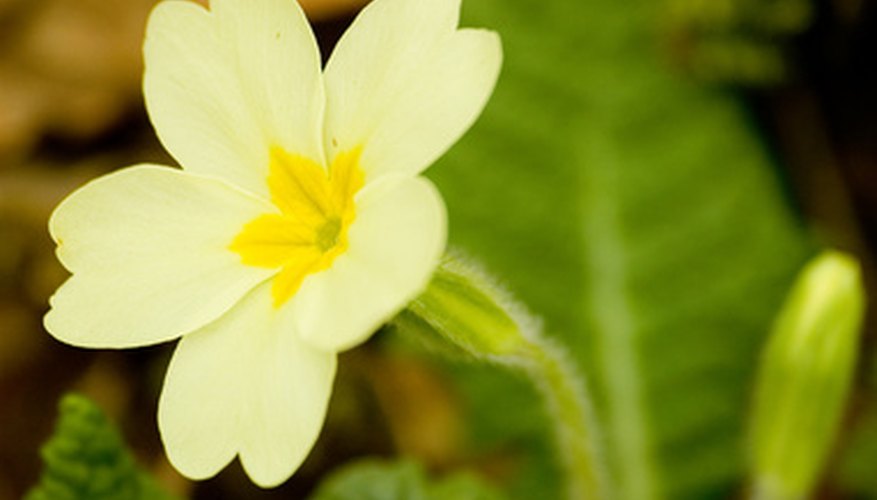 Zone four is in the upper mid-west, New York and New England where the winter temperatures reach 20 below zero. Flowers in Zone 4 benefit from a good mulching over the winter to protect the delicate roots from freezing; otherwise they stand up to all the cold Zone 4 throws at them and come back the next year just as strong.
Primrose
Primrose (Primula vulgaris) produces semi-evergreen, oval-shaped leaves that grow up to 10 inches long in rosettes on the ground and flowers that are most often yellow but can be pink, blue or other colors. The flowers measure 1 inch across and grow in clusters that rise about 6 inches above the leaves. Plant the primrose in partial shade and in a rich soil that is constantly moist but not wet.
Queen of the Prairie
Queen of the prairie (Filipendula rubra) is a perennial member of the rose family. The plant grows from 3 to 5 feet tall with 3-foot long leaves. Queen of the prairie produces small, fragrant, pink flowers growing in large clusters from June through August. Plant queen of the prairie in partial shade and a moist to dry soil. Butterflies will come for a sip of the nectar.
Joe Pye Weed
Joe Pye weed (Eupatorium fistulosum) is also known as queen-of-the-meadow and is a perennial member of the aster and daisy family. The plant grows from 3 to10 feet tall producing lance-shaped leaves that reach from 8 to 12 feet long. The small, pink or purple flowers grow in round clusters that measure as much as 18 inches across. Plant Joe Pye weed in full sun and a moist soil.
Yellow Flag
Yellow flag (Iris pseudacorus) is also known as water flag and yellow iris, and is a perennial member of the iris family. The plant produces gray-green, sword-shaped leaves that grow from 3 to 5 feet long. The flowers are yellow, grow in groups on 4-foot tall stems and reach 3 to 4 inches across. Plant yellow flag in full sun in wet soil or in partial shade in moist soil. The plant loves water and does best planted near or in water features.