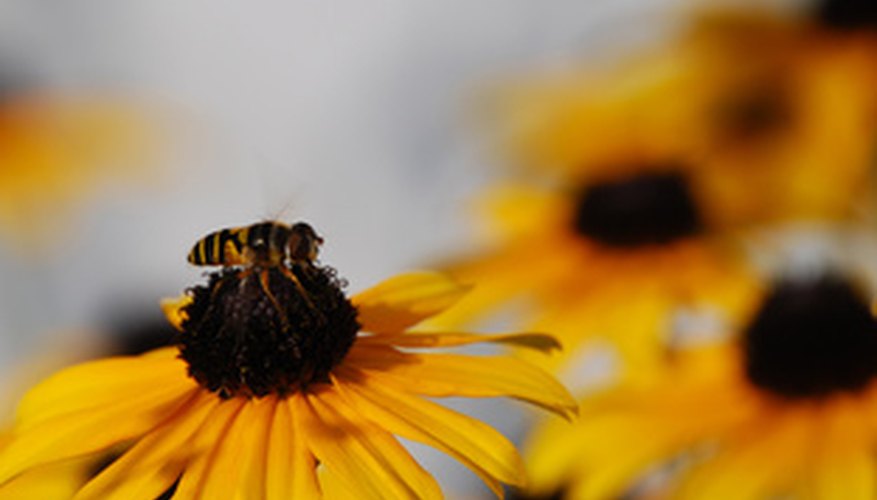 Plants that tolerate full sun and dry soil conditions do well in the summer. Many summer flowers will bloom well into September. Add flowers with summer blooms for borders, landscape focal points and additions to spring flowerbeds.
Black-Eyed Susan
The black-eyed Susan makes an attractive addition for fencing, property barriers and rock walls. Some homeowners like to add black-eyed Susan plants near mailboxes and driveway entrances. Black-eyed Susan plants can reach 2 to 3 feet in height, depending on the variety. This self-seeding perennial does well during the summer because it is heat tolerant, requires full sun and is hearty. According to the University of Illinois Extension, this plant attracta wildlife with its yellow blossoms. Additionally, it is deer resistant.
Common Yarrow
The common yarrow blooms in orange, pink, red and yellow to add color to any yard. Full-sun and dry soil conditions make this an ideal choice for landscaping with flowers to plant in the summer. According to the University Illinois Extension, common yarrow reaches 1 to 2 feet in height. The flowers bloom from June through September.
Daylily
Daylilies do well when planted in the summer. According to the University of Illinois Extension, this perennial does well in many different landscaping conditions, from moist to dry areas. They can tolerate full sun or thrive in partially shady areas. Plant daylilies in rich, organic soil to meet their high nutrient requirements. Deadhead daylilies to encourage higher bloom yields. Plant different varieties of daylilies together to encourage the best color combinations. This plant is available in a multitude of cultivars and color variations.
Goldenrod
Attract butterflies and add brilliant yellow to the summer landscape with goldenrod plants. These plants grow in clusters with long, flowing stems covered in small, tiny yellow flowers. Well-drained soil and full sun keep goldenrods blooming from June to September. According to the University of Illinois Extension, it is important to avoid too much fertilizer to keep goldenrod looking its best. Goldenrod prefers moist soil, but is tolerant of dry areas in the yard.