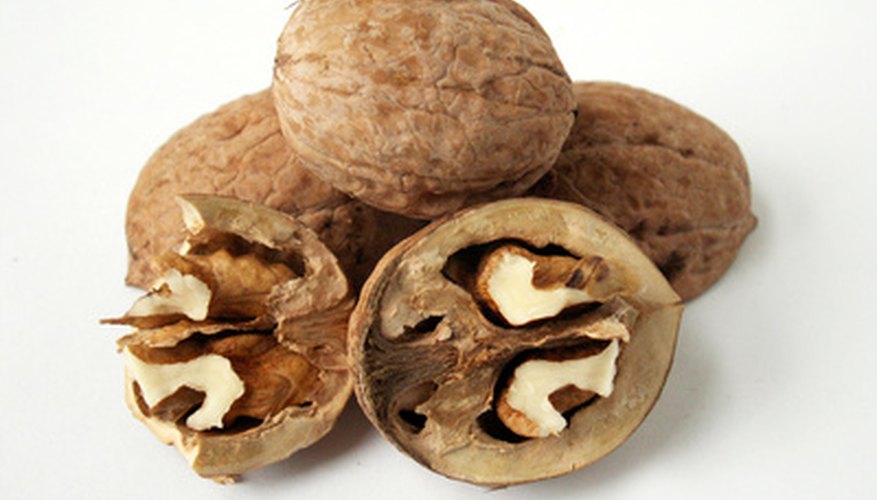 Pecan trees in Texas have a twofold significance: they are native to approximately 150 Texas counties and hold the title of state tree. Since pecan trees are wind-pollinating trees (cross-pollinating with trees up to 1/4 mile away), the AgriLife Extension Texas A&M System suggests planting one early-pollen-shedding and one late-pollen-shedding variety, preferably within 300 feet of one another.
Caddo
Caddo pecan trees have early-ripening, oblong, prolific nuts with tapered ends. The golden-colored kernel has shallow grooves and is easily shelled. Early pollen shedders, the caddo cultivar has moderate scab resistance and typically produces 60 nuts per pound, according to the AgriLife Extension. Caddo is well-suited for use as a yard tree; it begins bearing pecan nuts in as few as five to six years.
Choctaw
Choctaw cultivars are pecan trees in Texas producing oval-shaped, prolific pecan nuts with an obtuse apex and an acute base. The cream to golden-colored 58-percent kernels display dark veins and shallow grooves. Choctaw cultivars are late season pollen shedders, have moderate scab resistance, and produce 37 nuts per pound. Choctaw is considered well-suited as a yard tree due to its attractive foliage.
Pawnee
Pawnee pecan trees in Texas produce extremely early ripening pecan nuts elliptical in shape with an obtuse apex and a round base. Golden in color, the 58-percent kernel of the pawnee cultivar has wide grooves. An early pollen shedder, this pecan tree has poor to moderate resistance to scab, but has a natural resistance to aphids (a common pest of pecan trees), according to the AgriLife Extension Texas A&M System.
Wichita
Wichita pecan trees in Texas produce oblong-shaped pecan nuts with an acute apex and a rounded base. Golden to light brown in color, the 62-percent kernels have narrow grooves. Late pollen shedders, Wichita cultivar pecans trees have very poor resistance to scab and produce 43 nuts per pound. A vigorous and productive tree if well-managed, Wichita cultivars begin to bear within 5 to 7 years.