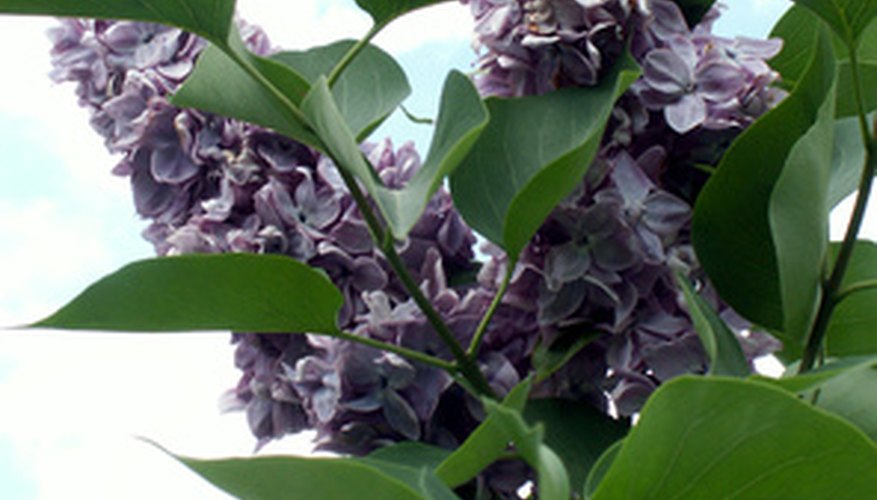 Clay soil can become water-logged in wet weather and can dry hard around roots in dry weather. It takes a hardy shrub to overcome these adverse growing conditions. The best choices for shrubs that grow well in clay soil are those that are native to clay soil areas. Choosing native shrubs means you will not have to amend the soil, and there are several options.
Arrowwood Viburnum
The arrowwood variety of viburnum can reach a height and width of 10 feet, making it a good choice as a windbreak. Trimmed, it can be used as a hedge. The shrub produces blue-black berries. Arrowwood is cold hardy to USDA zone 3.
Clove Currant
Clove currant is USDA cold hardy as far north as zone 2. The shrub can reach a height and width of 6 feet. Clove currant produces clove-scented flowers and can grow in full sun to part shade.
Lilac
The heavily scented blooms of lilac may be white, pink, yellow or light purple. A lilac shrub can grow up to 15 feet tall; dwarf varieties reach about 5 feet. Lilac can grow in zones 3 to 7.
Meadowlark Forsythia
Meadowlark forsythia produces yellow blooms in early spring on long, bending cane. Growing in full sun to part shade, forsythia is suitable as a wind break. Annual pruning can keep the shrub at a desirable height. Without pruning, forsythia is capable of reaching heights and widths up to 10 feet. It is hardy to zones 3 through 8.
Potentilla
Potentilla, also known as the buttercup shrub, produces summer-time yellow blooms that attract butterflies. The shrub can reach 4 to 6 feet in height, depending on the variety. You can grow potentilla in USDA zones 2a to 6b.
Siberian Pea
Siberian pea, or peashrub, grows up to15 feet tall and 10 feet wide. The leaves of the peashrub are light green and the yellow blooms produce a pod containing an edible pea-size seed. Siberian pea is hardy as far north as USDA zone 2a.