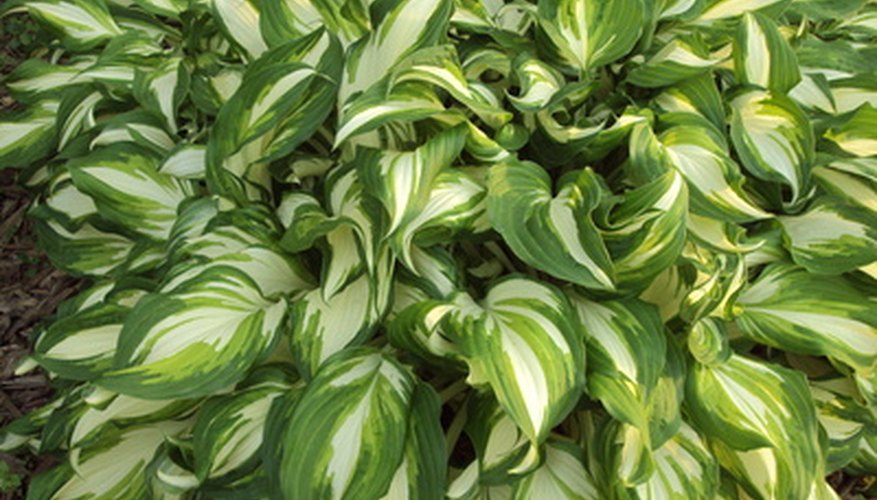 A little creative thinking can make your shady area a real focal point. While most plants are sun-lovers, some shade plants will make your shade a blast of color and texture. The degree of shade on your property likely varies from spot to spot. Regardless of the amount of sunlight, each of those areas holds several possibilities for attractive landscaping.
Zoning
Landscaping choices work best when you use zone appropriate plants. Plenty of evergreen and hibernating perennials survive well in cold climates. For those that are sensitive, but still hardy, a little creative covering or mulching will help them get through the freezes. In temperate climates, you need plants that can tolerate heat even if it isn't direct sunlight. Make sure they get plenty of water during the hottest parts of the summer to compensate for the high temperatures.
Ground Covers
Start by forgetting about most grasses in all but the lightest shade areas. Grass may grow, but it will likely be thin and prone to disease without a generous amount of sunlight. However, there are other types of ground covers that do well in shade. These plants do not need a great deal of care and spread just as well as grass. Create a path with moss, or fill in empty spots with flowering grown covers such as bougainvillea, bellflower, blue star creeper and wild strawberry.
Texture, Depth and Height
Evergreen shrubs give your landscaping height. They also add texture with a variety of leaf types. Ivy and other vines do well in shade and draw attention to wherever their trail goes. Use trellises to control the growth pattern of ivy so the focal attention follows it. Use ivy to add depth as well by drawing attention from one level to another in a landscape.
Color
Add bursts of color even in shaded areas. Most flowers prefer sun but columbine, cardinal flower, geranium and lily-of-the-valley are just a few of the many shade loving plants that actually prefer shelter from the sun. These plants will provide the color you need to punctuate the area. Don't ignore the colorful leaves of many non-flowering plants for eye-catching appeal. Shade-loving hostas come in over 500 varieties and are big beautiful foliage plants you can use to create a visual boundary for your landscape. Foliage plants are a good way to border paths and landscaped areas.