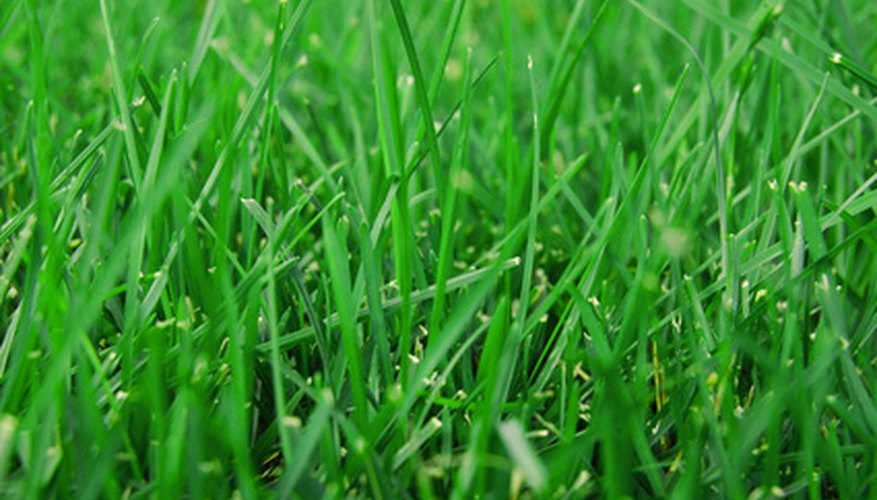 Recently seeded fescue lawns will benefit from a lawn fertilizer applied one month after sowing, according to Texas A&M University. The month interval without added fertilizer allows the seeds to germinate and the young grass plants to focus all of their energy on the healthy root development that will sustain the lawn over time. Starter fertilizer that was applied when preparing the seed bed will continue to feed the germinating seeds and young plants very lightly through the month-long interval between applications.
Cast the fertilizer with a gloved hand evenly over the lawn expanse or use a walking spreader tool to lay down the label-recommended dose of fertilizer for the square footage. Do not exceed the application of a 1/2-pound of nitrogen for every 500-square feet in order to prevent burn and weak top growth.
Water the fertilizer into the lawn immediately after application to prevent burn and to speed the nutrients into the root zone. Drench the fertilizer and surrounding soil to a depth of at least 6 inches.
Establish a regular fertilizing regimen for your fescue lawn, feeding it a minimum of twice each year and up to four times each year, if needed. Always repeat the application of the complete fertilizer in September and May every year. Add a supplemental application of pure nitrogen lawn fertilizer at 21-0-0 in February and again in July to green the lawn if needed.
Things You Will Need
Granular lawn fertilizer (20-5-5-, 26-3-4 or 35-3-5)

Nitrogen lawn fertilizer (21-0-0)

Gloves or spreader tool