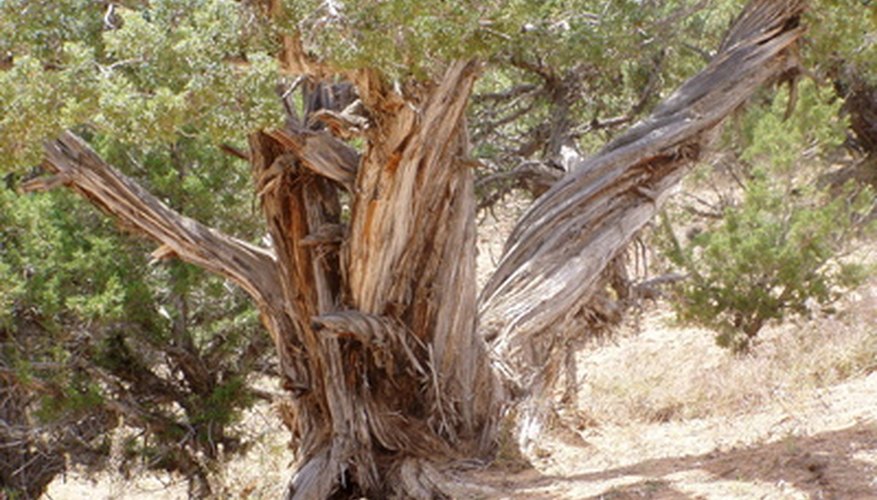 Cedar posts have been used as fence posts for centuries. Cedar is resistant to rot and therefore makes it a good material for anything built outside. If you are cutting down your own cedar trees for use as posts, keep in mind that you will need to let them cure, or dry, for at least a year before use. You will also need basic tree felling knowledge before attempting to accomplish this task.
Choose only straight standing cedar trees, with single trunks, to cut for posts. Wear heavy gloves and long sleeves to avoid skin irritation from the cedar bark and sap.
Measure the trunk at eye level. The trunk should be between six and eight inches across to make a long-lasting, sturdy fence post.
Cut the tree, with the chainsaw, approximately two feet above the ground using safe, tree-felling procedures.
De-limb the trees of the branches as close to the trunk as possible using the chainsaw. Cut the logs to the desired length. Six to eight feet are the normal post lengths.
Sacrifice two of the posts as racks and keep the remaining posts off the ground. Stack the posts, rick style, and allow them to age for one year.
Knock away the loose bark from the dried cedar after the first year, using a mallet or hammer. The posts are now ready to be used as fencing.
Things You Will Need
Heavy duty work gloves

Long sleeve shirt or jacket

Tape measure

Chainsaw

Mallet or hammer
Tips
When standing cedar posts for fencing, allow the posts to be buried 18 inches to two feet into the ground for better stability.

If clearing a property of cedar, larger cedar logs can be taken to a sawmill and turned into cedar lumber. The smaller top of the trees can be used for posts.