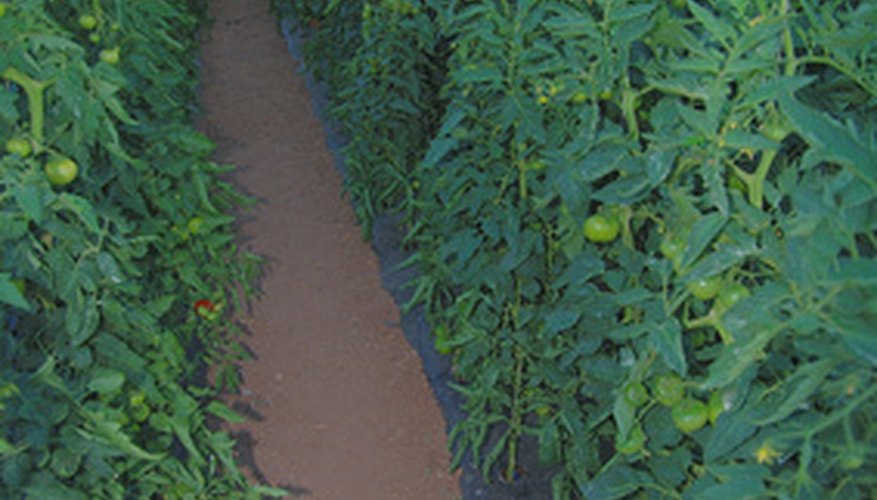 For gardeners who want to extend their growing season in northern latitudes or garden all season long in southern climates, a hobby greenhouse allows you to control your environment. A simple hobby greenhouse to construct is a hoop house or high tunnel. A hoop house is constructed from a series of arching ribs with a plastic skin over the top. The ends of a hoop house can be raised or lowered to allow heat to be easily vented from the interior of the greenhouse.
Saw one 2-by-4 board into two pieces that are 12 feet long each. Make a frame by nailing the boards to two 2-by-4's 24 feet long to make a foundational structure that is 12 feet by 24 feet.
Attach two more 2-by-4-boards that are 24 feet in length to the inside of the 12 by 24 foot box to create two raised beds and a four-foot wide path. Space each board so that it is four feet in from either side and four feet from each other. This will give you a four foot wide path centered on the width of the frame.
Pound the three-foot rebar one foot into the ground with the rubber mallet to create rebar stakes along the outer long sides of the foundation. Place six stakes along each side and space the stakes four feet apart. Each of the six stakes on one side of the greenhouse foundation should be directly across from the six stakes on the other side.
Slip the ends of the six pieces of conduit pipe over the tops of the stakes on one side of the greenhouse. Bend the other ends of the pipe downward into a U shape and slip them over the rebar stakes on the other side of the greenhouse to make six greenhouse ribs.
Run a galvanized wire across the top of the arch. Wrap the wire once around each piece of pipe as you pass the pipe pieces. This will create a ridge and increase stability in the greenhouse.
Cover the greenhouse with a sheet of polyetheline plastic. Roll the sides of the plastic and staple them to the boards at the base of the greenhouse. Weigh down the ends of the plastic with cinder blocks. To vent the greenhouse, pull back the cinderblocks and lift the plastic.
Roll chicken wire out to cover the ground inside each raised bed. Secure the chicken wire along it's edges to the inner sides of the raised beds with construction staples. Then fill each raised bed with a potting mixture of one part sand, one part compost, one part peat moss and one half part manure.