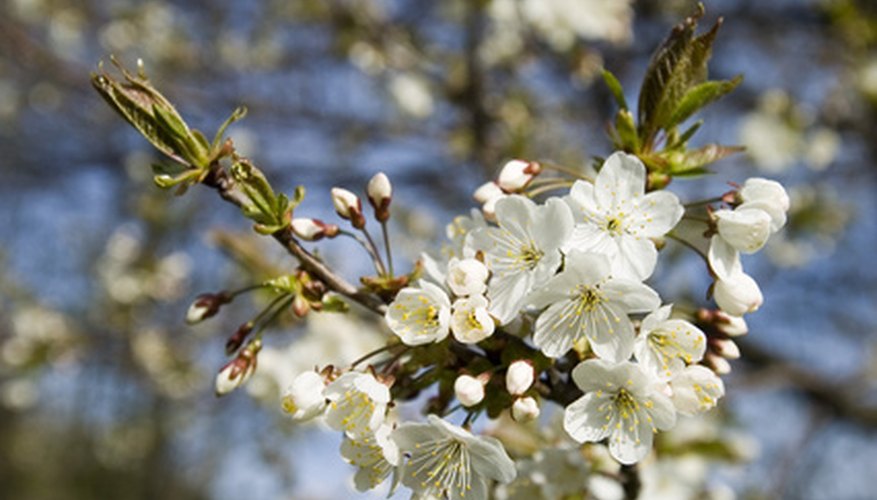 The Yoshino flowering cherry tree is also known as Prunus x yedoensis. It is a beautiful flowering cherry tree whose fragrant white blossoms are a harbinger of spring. This lovely tree is used as a border planting near driveways, as a specimen planting, and as an accent element in landscape design. Horticulturists consider the Yoshino cherry tree one of the best of the flowering tree specimens.
History
The history of the Yoshino cherry tree dates to 1912, when the Japanese government gave 3,000 Yoshino cherry trees to the United States. Each year tourists flock to Washington, District of Columbia, to view the cherry blossoms. Macon, Georgia, also has a cherry blossom festival in which the Yoshino cherry tree is a star attraction.
Basics
The Yoshino cherry tree is native to Japan, Korea and China. It is hardy in zones 5 to 8, and it will reach a mature height of 20 to 30 feet with a spread of 10 to 20 feet. It does well in full sun or partial shade, and will adapt to most soil conditions as well as tolerate drought conditions. The Yoshino cherry tree's growth habits are moderate to fast. This tree is strictly an ornamental–no fruit is produced.
Pests: Peach Tree Borer
Cherry trees are susceptible to infestation by borers. The peach tree borer invades peach, cherry and plum trees as well as various stone fruits. Borers are found underneath the bark of the cherry tree. A severe infestation of peach tree borers can kill the tree. Preventive measures are used in controlling the infestation. Insecticides are applied during the egg and larval stages of the infestation--this is when they are visible on the outside of the bark. PDB or paradichlorobenzene moth crystals are also a means of controlling the peach tree borer.
Pests: Ambrosia Beetle
The ambrosia beetle focuses on the trunk of the Yoshino cherry tree. A sign of the ambrosia beetle's presence is the protruding toothpick-like dust from their boring holes as they tunnel into the tree. Once the ambrosia beetle attacks the tree it has little chance of survival.
Canker Disease
Canker diseases can affect the cherry tree as well as many other ornamental and shade trees; fungi or bacteria cause these diseases. Cankers can be sunken or swollen spots that appear on infected branches, and there will be browning of the tissue underneath the bark. Infected branches should be pruned away. This will slow down the progress of the disease but there is no cure for canker disease.