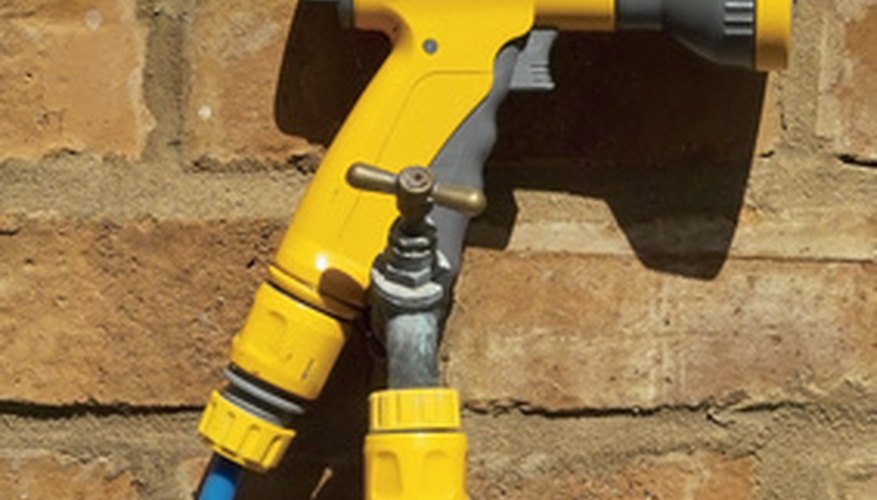 Watering the garden becomes exponentially more expensive as the summer progresses. Hotter days mean plants require more water to retain foliage and flowers. The key to decreasing water usage in the landscape lies in watering more efficiently. If your plants struggle in the heat despite daily watering with a sprinkle, it's time to take a close look at the irrigation method. Garden irrigation ideas include common types of watering such as sprinklers and hoses as well as conservation methods using soaker hoses, drip irrigation and rain barrels.
Soaker Hose
One of the most efficient, cost-effective ways to water any type of garden involves the use of a soaker hose. Soaker hoses have perforations throughout the hose that allow the use of low water pressure to water the garden. A steady light stream of water feeds into the hose and slowly seeps out the thousands of pores along the length of the hose. A soaker hose allows slow watering to give soil plenty of time to absorb moisture. High quality soaker hoses come as a kit with water pressure valves to easily adjust flow.
Drip Irrigation System
Drip irrigation systems work in a similar method to soaker hoses except that each plant has its very own drip vent. These systems are embedded into the soil much like an in-ground sprinkler system. Drip irrigation systems feature a tiny tube that releases water onto the surface soil around the base of a plant. If the plant doesn't require watering, simply snap on a plug to bypass a particular tube.
Garden Hose and Sprayer
The lowly garden hose often gets left out in the cold when it comes to pondering hoses for efficient garden irrigation. Garden hoses with attached sprayers aren't water-wise until you place a smart gardener behind the nozzle. Technique serves as the perfect way to water your plants efficiently with basic equipment when you're pressed for time. Aim the sprayer toward the soil around each individual plant. Give each a plant a good drink and move on to the next plant.
Rain Barrel
Collecting rainwater runoff from the structures on your property serves as a cost-effective way to maintain gardens. These barrels have tubes that attach to downspouts and collect water with every rain event. Rain barrel systems harvest water from the great expanse of the roof and funnel the fluid into a collection barrel. The barrel has a spigot attached to the lower front portion to allow gravity to supply enough pressure to fill a hose. Place the barrel at a higher elevation to increase water pressure to supply soaker hoses. This economical method of watering can save considerable expense during summer months of high water use.