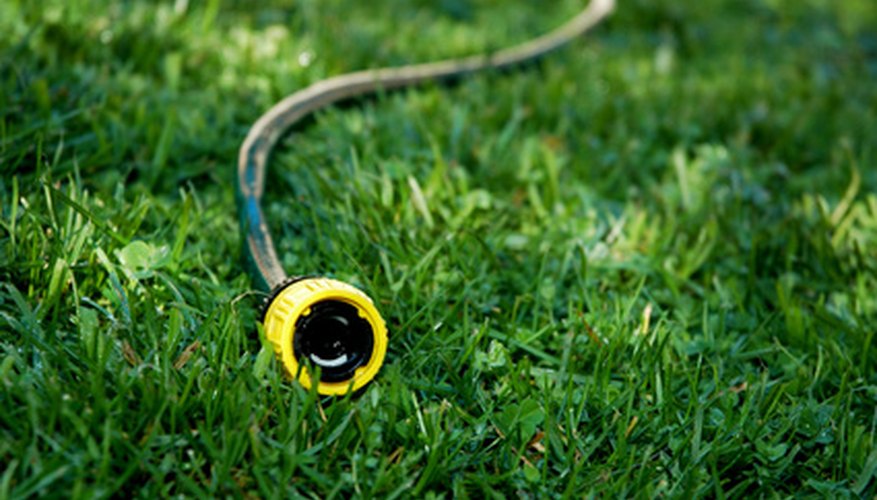 If your lawn is in need of reseeding, there are a few things to consider. One factor is that you should only do this during the lawn's growing season. You can use seed to fill in patches or to spruce up your whole lawn. You can purchase fancy equipment if you think you will be doing this job often, or just stick to a simple garden rake and seed spreader.
Preparation
Preparation is important when it comes to reseeding your lawn. Compare how careful you would be with sowing seeds in your garden and seeding your lawn. Rake your lawn with the stiff garden rake and remove any debris that you pull up. Continue to rake hard, especially in areas where the soil has been compacted from being baked in the sun.
Water
If you prepare your lawn for the seed and the ground is dry, the seed will not germinate. There is no point in conserving water when you want to seed, except to water in the evenings after the heat of the day. A well-watered lawn will take about 48 hours of successive waterings for proper saturation down to about 6 inches. Give it about an inch every day until you sow the seed and then half an inch every 12 hours to make sure the seed stays moist.
Seed
You want to make sure that the plant you are trying to grow in your lawn is the right kind for what you need. There are mixtures made up for shade and some for fast growing grass and others for heavy traffic areas. If you are not sure what you need for your yard and climate, check with your local cooperative extension office.
Top Dressing
If you have prepared your lawn with a good raking, moistened the soil down to 6 inches and sown the right kind of seed, there is one more thing you can do to make sure your seed grows well—top dressing. You do this by sprinkling a thin layer of soil over the lawn. You can use well-rotted compost for an extra boost of nutrients or regular garden soil. You can use a broadcaster if your soil is dry and sifted enough or just throw it by hand. An 1/8 inch is all you need to use.