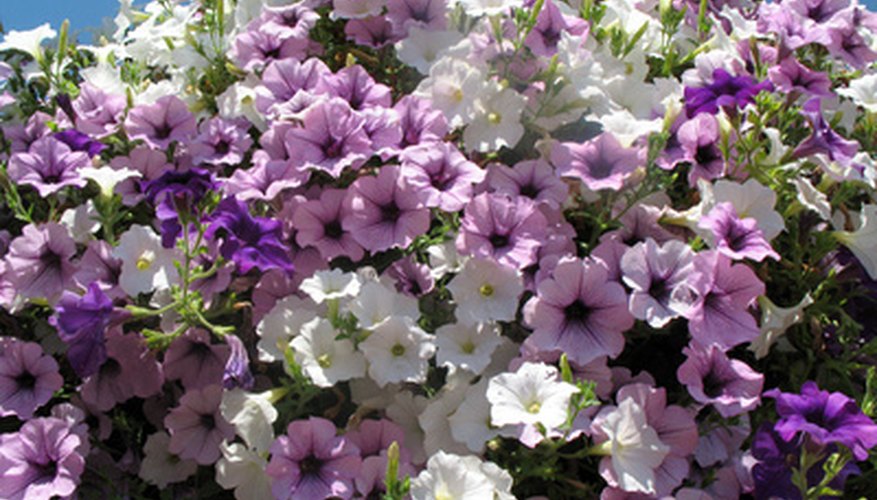 Hanging baskets filled with bright and colorful flower blooms create a showy landscape presence. Their cascading, billowing growth habit helps to fill out the basket. Grown in dozens of varieties, flowers that excel in hanging baskets are typically low-growing, wide-spreading flowers that produce masses of blooms throughout the summer and into the fall. Oftentimes, they require full sun to partial shade and moist soil to thrive.
Surfinia Petunia
Surfinia petunia (Petunia integrifolia) is a rapid-growing, low-maintenance annual flower. Cascading down 3 feet, surfinia petunia blooms are ideal flowers nestled in a hanging basket for a commanding design. The bright purple to lavender blooms emerge in May to last to the first frost, creating a long-lasting hanging basket. Each flowerhead on the surfinia petunia grows 1.5 inches wide. The blooms on the surfinia petunia do not require deadheading, making for a unfussy flower. Surfinia petunia blooms require full sun and a moderate amount of moisture to thrive. They also prefer loamy soil to thrive.
Verbena
Verbena (Verbena speciosa 'Imagination') is a hardy annual flower with a rapid growth rate and spreading habit. Drought- and frost-tolerant, verbena's bright, showy flowers grow 1 to 3 feet tall and 3 to 6 feet wide, perfect for draping over the hanging basket. Beginning in spring, the bright purple blooms emerge to last until the first frost. The clusters of blooms on verbena have a small puffball-like shape that sits atop the bright green, dissected foliage. Verbena flower attract butterflies to the garden. They require full sun only and well-drained, moist soil to thrive.
Impatiens
Impatiens (Impatiens wallerana) are annual flowers that produce bright and colorful blooms. The flowers on impatiens are grown in a wide range of colors, including pink, orange, white, red and purple. Growing 8 to 24 inches tall, impatiens creates a full and classic hanging basket. Beginning in spring, impatiens blooms to last through fall, making for an ideal basket to hang on a front porch. Impatiens require partial shade to full shade and well-drained soil. When planting impatiens, space the flowers out 10 to 12 inches apart.