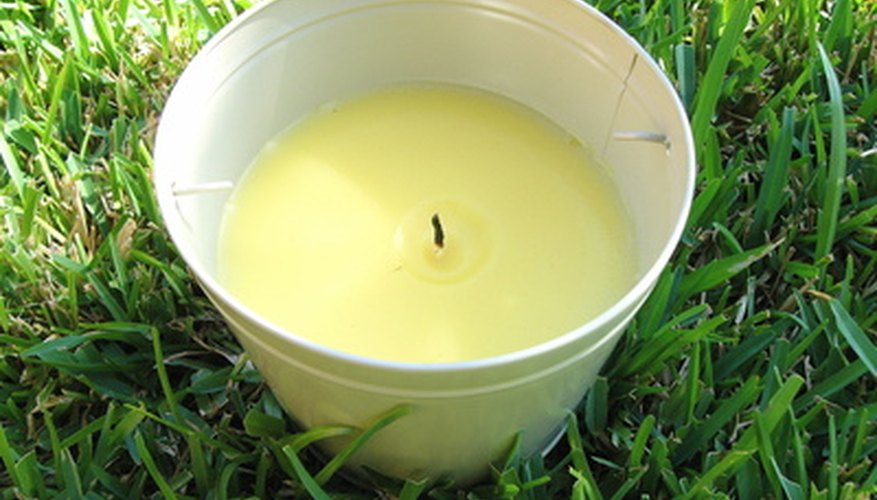 Native to Southeast Asia, Citronella, (Cymbopogon nardus), is a coarse ornamental grass that grows in clumps of flat, greyish-green blades reaching five to six feet at maturity. Commercially, citronella is grown for the extraction of citronella oil, used in insect repellents, and in soaps, perfumes and massage oil. Citronella is a warm-weather plant that requires a humid environment and a long growing season and won't tolerate freezing weather. Plant citronella grass along a walkway or sidewalk or patio to take advantage of its lemony fragrance.
Plant citronella grass where it will be exposed to at least six hours of sunlight every day. Before planting, use a hoe or shovel to cultivate the soil to a depth of eight to 10 inches, then work in two to three inches of compost or decomposed manure.
Water citronella grass every two to three weeks, when the soil is dry. Water the plant deeply by allowing a hose to drip slowly at the base of the plant.
Feed citronella grass every month during the growing season, using a water-soluble fertilizer for blooming plants. If you prefer, you can feed the citronella grass in spring and again in mid-summer, using an all-purpose, slow-release granular fertilizer. Don't fertilize the plant after August.
Protect citronella grass from occasional light frosts by spreading three to four inches of organic mulch such as pine needles, dry grass clippings or dry leaves around the base of the plant. Remove the mulch after the danger of frost has passed in spring so the grass can grow freely.
Divide the citronella grass and bring it indoors for the winter if you live in a climate with hard winter freezes. Dig up the clump with a shovel or garden fork, and divide a small section from the larger clump. Throw the large clump on a compost heap, or divide it and share the clumps with friends. Plant the small section in a large pot filled with commercial potting soil. Place the pot in a sunny window and keep the soil damp. When all danger of frost has passed in the spring, replant the citronella grass in its regular outdoor planting site.