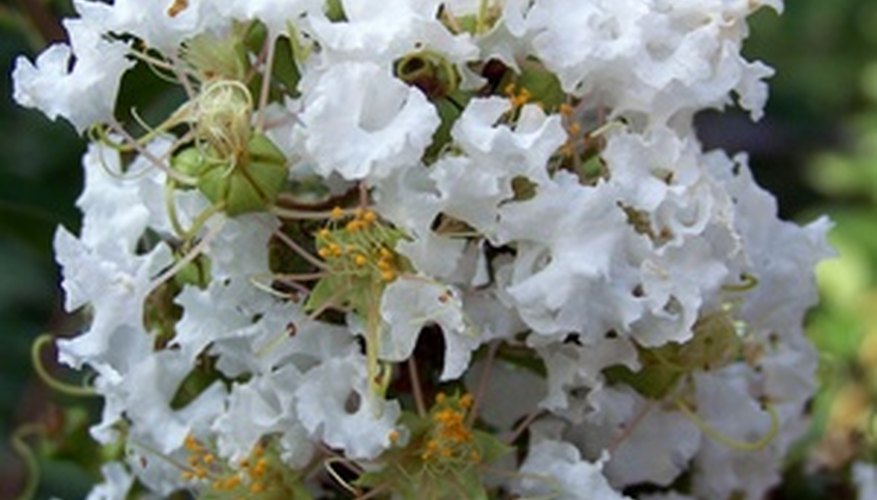 Shade trees in Central Florida feature more flowers than many shade trees further north. Central Florida lies in plant hardiness zone 9, where the winter temperatures usually do not get below 20 degrees. Trees further north need the colder temperatures so they can go dormant for the winter. Trees native to zone 9 have a longer growing season and produce long-lasting flowers that make a fragrant, shade-producing canopy.
Southern Catalpa
Southern catalpa (Catalpa bignonioides) is also known as the catawba and Indian bean tree. The tree grows from 25 to 50 feet tall with about the same spread and a short trunk.The plant features heart-shaped leaves that grow up to 8 inches long in groups of three. The white, bell- shaped flowers bloom in the spring, measure 2 inches in diameter and grow in 6 to 10-inch clusters at the tips of the branches. The flowers give way to 16-inch, cigar-shaped seed pods which will remain on the tree through the winter and release the seed the next year. Plant southern catalpa in full sun or partial shade and in a soil that is moist and well drained. The flowers are a favorite food source for butterflies.
Crape Myrtle
Crape myrtle (Lagerstroemia indica) is a deciduous tree and a member of the loosestrife family. The tree grows from 18 to 40 feet tall with smooth, green leaves. The white purple, lavender, red or pink flowers bloom in summer, grow in large clusters, stay on the tree from 60 to 120 days and give way to brown or black fruits. Plant crape myrtle in full sun and a moist and well drained soil. 'Natchez' is one variety that makes a good shade tree.
Sourwood
Sourwood (Oxydendrum arboreum) is also known as the lily-of-the-valley tree and is a medium- to tall member of the heath family. The tree is deciduous, has a pyramid form and grows from 30 to 60 feet tall. The tree produces green, oblong leaves that grow up to 10 inches long and turn red, scarlet or purple in the fall. The fragrant, white flowers bloom in the spring and early summer and last for a month growing in clusters on drooping stalks that grow from 8 to 10 inches long. Plant sourwood in partial shade and fertile, moist, well-drained soil for the best results. The flowers provide a favorite food source for honeybees and the honey the bees produce is sold as "Sourwood Honey."