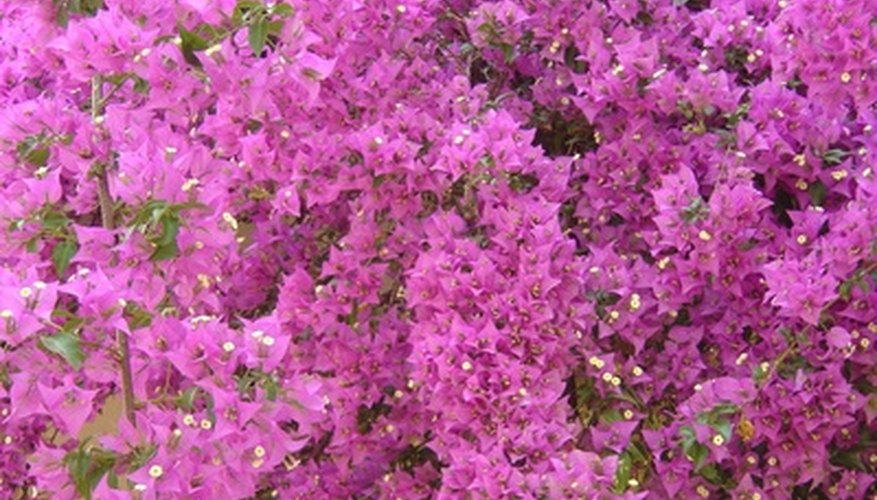 Shrubs serve as a vital component of a well-balanced landscape. These plants range in size from very small to commanding ornamental plants that become the focal point in the landscape. Types of shrubs include both deciduous and evergreen as well as flowering shrubs. Learning how to design a shrub bed requires evaluation of the planting site, soil testing, investigation of shrub options and allowance for mature growth.
Stretch a garden hose to form the outside perimeter of the shrub bed. Measure the length and width and transfer this information to the graph paper in the form of a sketch from a top view. The level of detail should be accurate enough to measure the spacing required by mature plants.
Locate a copy of the USDA hardiness zone map online or in a book and determine your planting zone. Use this information to select plants appropriate for your location to increase the chance of success.
Watch the progress of sunlight over the planned shrub bed over the course of a day. Jot down this information to help determine the light availability of the planting site. This information forms the first basis for any choice in landscape shrubs.
Consult your state's cooperative extension office or a local nursery for information on native shrubs. These shrubs tend to be hardier and often exhibit qualities such as drought tolerance when planted in a home landscape. Keep a running list that includes mature height, light needs and general descriptions of each shrub.
Sketch the permanent structures in the landscape onto a separate piece of graph paper. Create this drawing from a ground level view, and include structures behind the planned shrub bed and those within the line of sight of the garden. Shrubs often grow quite large, so place house windows, porches, walkways, driveways, railings and pillars as accurately as possible.
Decide which landscape features you want to hide or enhance. As a general rule, don't block windows, entryways or pillars. Enhance these features by placing shrubs on either side or beneath them.
Place the largest shrubs first in your original top view diagram. Decide if you prefer an asymmetrical or balanced design, and allow plenty of room for the shrub's mature growth size and height. Add smaller shrubs and ornamental plants to finalize the shrub design plan.