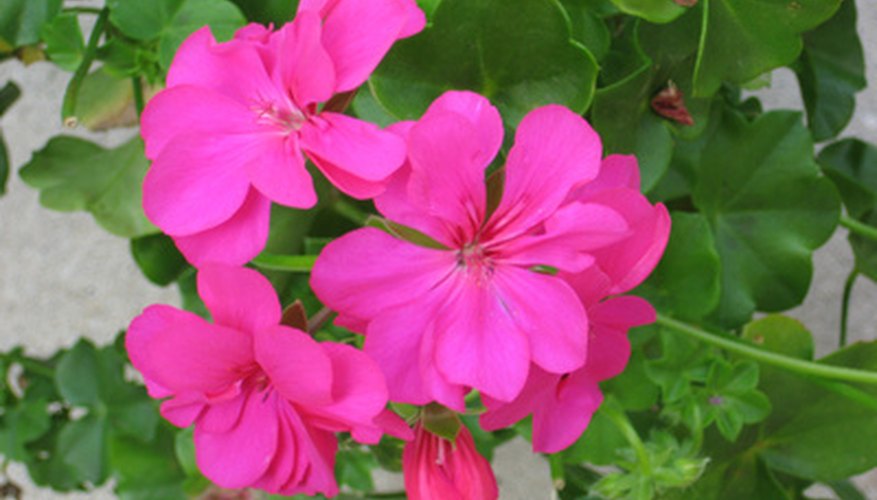 Geraniums are one of the most varied plants you can choose for your garden. There are hundreds of colors, scents and leaf patterns to choose from--even annual or perennial plants. The geranium genus Pelargonium means "stork" in Latin. Its name derives from the plant's long fruit capsule, which resembles a stork's bill. This heat-loving plant from South America will brighten up your summer garden while requiring minimal care.
'Rozanne'
The geranium variety 'Rozanne' was named 2008 Perennial Plant of the Year by trade group Perennial Plant Association. 'Rozanne' produces striking 2-inch, violet-blue blossoms with white centers throughout the summer with minimal care. Cut your plant back mid-summer to encourage even more flowers. Its deep-green, slightly marbled foliage becomes reddish brown in autumn.
'Tiny Monster'
The 'Tiny Monster' hybrid is sterile, which means its bright magenta blooms will continue all summer. It is a small geranium, growing only 6 to 12 inches hig and spreading up to 36 inches. It makes an excellent low-maintenance groundcover. 'Tiny Monster' was approved and chosen as a top pick in 2005 by the Dallas Arboretum
'Jolly Bee'
'Jolly Bee's' large blue flowers will last into fall. It grows to 24 inches tall in a mounded habit. It was chosen as a top performer by the Norfolk and South Coast botanical gardens. It is easy to grow and deadheading is not necessary. Unlike most geraniums, 'Jolly Bee' needs some protection from the afternoon sun.
'Daredevil Rosita'
The 'Daredevil Rosita' produces large, clusters of rose-colored flowers all summer. It is very heat- and drought-tolerant and will reach 24 inches tall. Oklahoma State University Botanical Gardens and several other universities have labeled the this cultivar a "top performer."