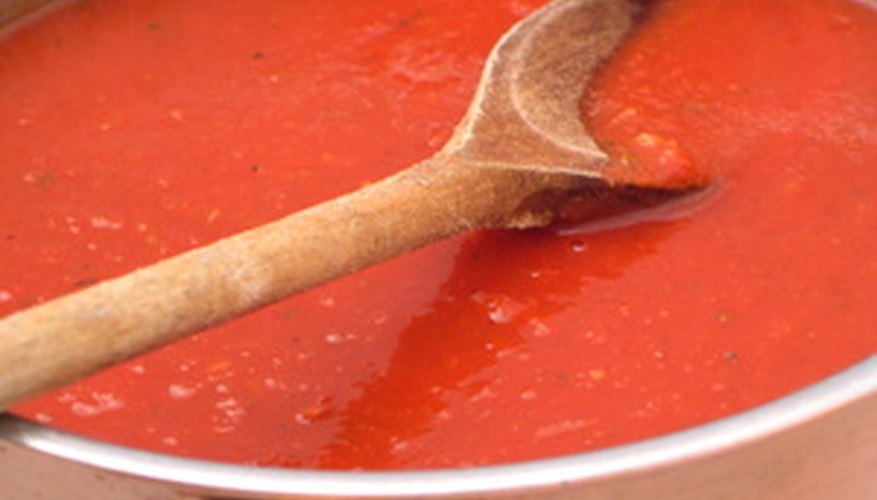 Whether it's for pasta, lasagne, or straight from the jar, homemade tomato sauce is a delicious addition to your cooking. Whatever you plan to do with it, try making your own tomato sauce. Certain tomato varieties will make your sauce easier and more flavorful. You'll never be able to go back to the store-bought version.
San Marzano Redorta
San Marzano Redorta (80 days) has a well-deserved reputation as the best of the Italian sauce tomatoes. Averaging a half pound, with some up to 16 oz., and 4 inches to 6 inches long, this is a much larger and better-tasting tomato than its cousin, San Marzano. San Marzano Redorta is complexly flavored, beautifully textured, bountifully productive and delicious enough to eat fresh off the vine.
Principe Borghese
The Principe Borghese tomato (80 days) is the classic Italian tomato for drying for winter use. The richly flavored dried tomatoes make an intensely flavored sauce. This heavy-bearing, determinate tomato is a great single crop and market tomato. It can be stored well into the fall without drying.
Golden San Marzano
Golden San Marzano (85 days) is the new golden cousin of the well-known San Marzano. It has a beautiful golden color and an enhanced, fruitier flavor. This is a perfect variety for making gold sauces and soups and also great for eating fresh. Determinate plants provide heavy crops with a classic roma shape that average 1 inch across and 5 inches long.
Martino's Roma
Martino's Roma (75 days) produces prolifically on small, 3-foot, determinate plants. The crop of 3-inch red pear-shaped tomatoes are perfect for cooking and delicious right off the vine. Very meaty, with few seeds, the flavor deepens in complexity during cooking.
Opalka
Opalka (70 days) is an heirloom from Poland. Laurel of Laurel's Heirloom Tomato Plants considers it, "...absolutely the finest tasting paste tomato." Huge, indeterminate vines produce masses of 5-inch long, thick red fruit. Virtually seedless, this tomato is great for sauce and is also delicious fresh. Despite its large size, it does well in large containers.
Saucey
The Saucey tomato (75-85 days) is an early bearing, determinate tomato. Fruiting is heavy and holds on the plant so that you can do one large harvest. This tomato makes a delicious sauce. Mature fruit can just be shaken from the uprooted plants. The Saucey tomato was bred by Dr. Jim Baggett at Oregon State University.
Plum Dandy
The Plum Dandy tomato (82 days), bred by Dr. Randy Gardner at North Carolina State University, is highly resistant to early blight. Plum Dandy produces large crops of blocky Roma-style fruit on compact, determinate vines. This tomato is wonderful for sauce and cooking and tasty for eating out of hand, too. This tomato is ideal for small gardens, beds, and containers.
Black Plum
Black Plum (75 days) is a different addition to the tomato sauce repertoire. Black Plum produces a heavy crop of rich and fruity, mahogany 3-inch tomatoes. It has a smokiness and delicate tartness. According to Laurel of Laurel's Heirloom Tomato Plants, it makes a perfectly balanced sauce or paste and is becoming a great favorite for canning. It is also delicious fresh off the vine for garden nibbling. Black Plum took first place at the TomatoMania tasting of 2002.
Green Sausage
Green Sausage (65 days) offers a startling change to the typical tomato sauce. It is an early tomato with green and amber coloring. The very productive Green Sausage is a small plant that produces a crop of 4-inch fruits with a tangy, sweet and rich flavor.
Resources