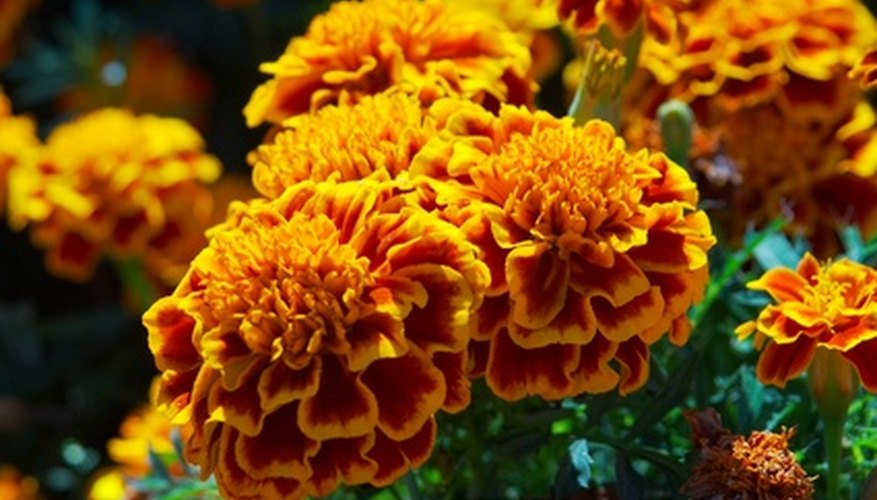 Rabbits like to hide in tall grasses and sneak into your vegetable or flower garden at dawn or dusk for their twice-daily feeding. Fortunately, the taste and smell of some flowering annuals are unpleasant to rabbits. Not only will the critters not eat the flowers, the flowers may also prevent rabbits from getting to other flowers and vegetables.
Ageratum
Ageratum, which can reach a height and width of 1 foot, can be used as a border. Lavender-blue blooms appear from late spring and into fall. Stems of blooms can be cut for floral arrangements. Deadheading spent blooms encourages more blooms. Ageratum can grow in full sun to part shade.
Alyssum
Alyssum, also known as sweet alyssum for the sweet fragrance the blooms emit, produces dome-shaped white blooms on plants up to 12 inches tall. The blooms appear from late spring into early fall. Alyssum can tolerate full sun, but can also grow in part shade.
Blanket Flower
Blanket flower grows 18 to 24 inches tall. Reddish blooms tipped with yellow appear from late spring to late summer. Take cuttings for floral arrangements or deadhead to encourage more blooms. Blanket flower grows best in full sun.
Lobelia
Lobelia produces blue, white or purple blooms from summer into fall. Growing about 8 inches tall and spreading up to 18 inches, lobelia can be used as ground cover or a border plant. Lobelia can grow in full sun to partial shade.
Marigold
It could be the distinct odor of marigold that keeps rabbits at bay. Easy to grow from seeds, depending on the variety selected, marigold can grow from 1 to 3 feet tall. Marigold offers autumnal colors of gold, brownish-orange, yellow and mixtures of two colors. Marigolds prefer full sun.
Snapdragon
Spear-shaped shoots of brilliant blooms display from spring into early fall. The blooms may be all one color or two colors, including yellow, rose, red and pink. The shorter, 6-inch variety of snapdragon can be used as a border. Grow the taller, 30-inch variety in the rear of the flower bed. Snapdragons can grow in full sun to part shade.