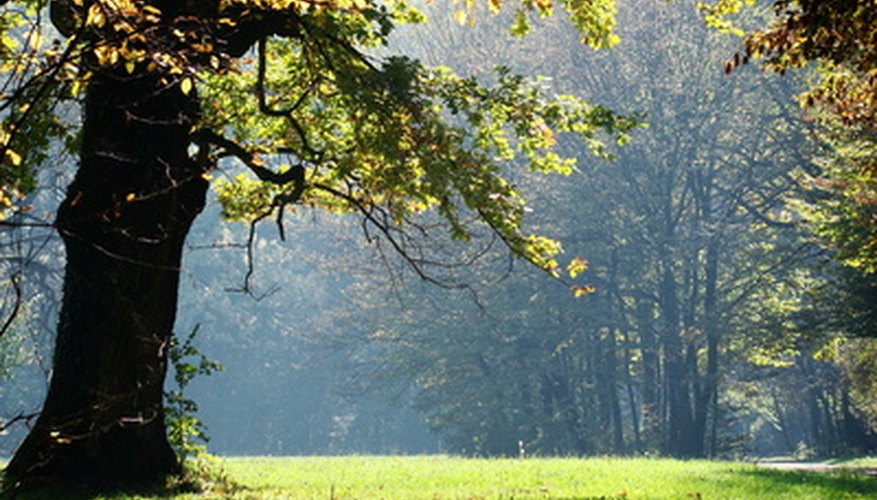 The mere mention of an oak tree often brings wonderful childhood memories to the surface. Because oak trees live so long and become so large, many have significant roles in United States history. According to the Arbor Day Foundation, the oak tree is the national tree for the United States. Oak trees provide not only a rich history but also many resources.
Wye Oak
The largest oak tree ever to live in the United States was the famous Wye Oak in Maryland. The white oak tree has had several names through the decades. The final name Wye Oak came from this gigantic tree's location in the city of Wye Mills. Cables, protective fencing and other measures were taken to increase the lifespan of the legendary Wye Oak, which began growing in the 1500s.
According to Maryland DNR, the Wye Oak collapsed during a thunderstorm on June 6, 2002. The tree measured 31 feet, 8 inches in diameter. It had reached a height of 96 feet and weighed over 61,000 pounds.
White Oak
There are many varieties of the white oak tree in the United States. The primary use for white oak is in winemaking. According to the Arbor Day Foundation, the wood of the white oak tree provides excellent storage for liquids. The white oak lives the longest of all the oak tree varieties and is very popular for landscaping.
The white oak has many fascinating stories throughout United States history. For example, in 1681 William Penn drew a white oak tree as a landmark on one of his maps, according to the Arbor Day Foundation.
Northern Red Oak
The northern red oak is known for its usefulness in lumber production. It grows well in the eastern region of the United States. Other names for the northern red oak include red, eastern and mountain red oak. The northern red oak is not native to the United States but comes from Novia Scotia, according to the National American Forestry Society. This oak tree is well-known for its brilliant display of colors during fall. Tourists travel from all parts of the United States to view the fall colors of the northern red oak during leaf season.