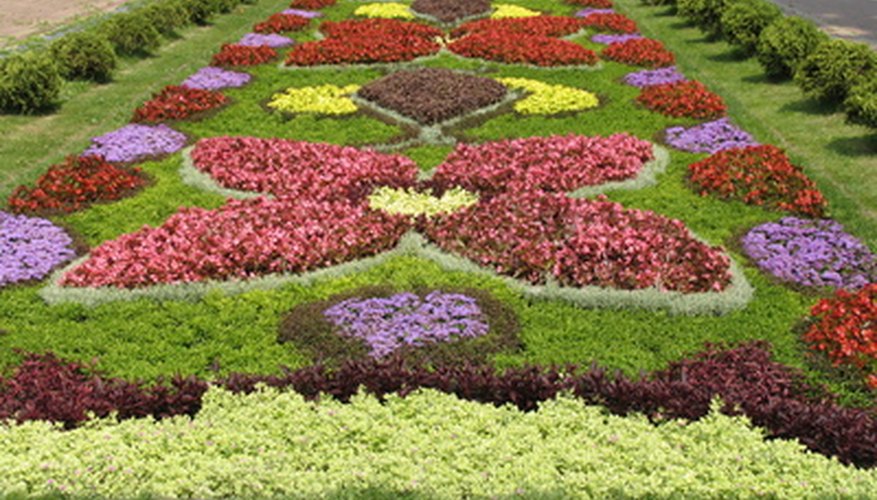 Colonial revival gardens emulate the formal gardens of Colonial America and incorporate the flowers and shrubs known to have been used extensively during the Colonial period. If you have a colonial-style house, you might want to consider adding some gardens or elements of these gardens to your landscape based on the classic Colonial revival style.
Classic Design
Colonial revival gardens feature formal, geometric symmetry and classic elements combined with old-fashioned flowers. Beds are often square or rectangular in shape and either have borders to define them or are raised. A series of beds can be laid out in a geometric shape with paths surrounding the beds and placed between the beds. Boxwoods or white picket fences can be used to define the perimeter of the garden. The beds can be filled with flowers, vegetables or fruits. Ornamental flowers often line the perimeter of beds used for growing fruits and vegetables. Colonial revival gardens also often include romantic arbors draped with wisteria or climbing roses, such as the historical 'Old Blush.'
Ornamental Flower Choices
Good choices for flowers include: irises, tulips, black-eyed Susan, goldenrod, asters, yarrow, day lilies, hollyhocks, dianthus, foxglove, Dames Rocket, columbine and bee balm. Historical roses to include are: 'The Apothecary Rose,' a rose dating to the ancient Romans and possibly the one Thomas Jefferson called 'Crimson Dwarf Rose'; 'Harrison's Yellow Rose,' hybridized in New York in the 1830s and thought to be the rose named in the song 'The Yellow Rose of Texas'; and 'Rosa Mundi,' a rose thought to be named for the mistress to Henry II, Fair Rosamund.
Herbs, Vegetables and Fruits
Colonial gardens almost always included herbs for cooking and for medicinal purposes. Herbs to include in a modern Colonial Revival garden are: basil, chives, chamomile, coriander, dill, fennel, oregano, parsley, sage and St. John's Wort. Vegetables to include are: asparagus, beans, beets, broccoli, cabbage, cauliflower, collard greens, corn, carrots, cucumbers, potatoes, squash and sweet potatoes. Fruits to include are: blackberries, gooseberries, melons, raspberries and strawberries.