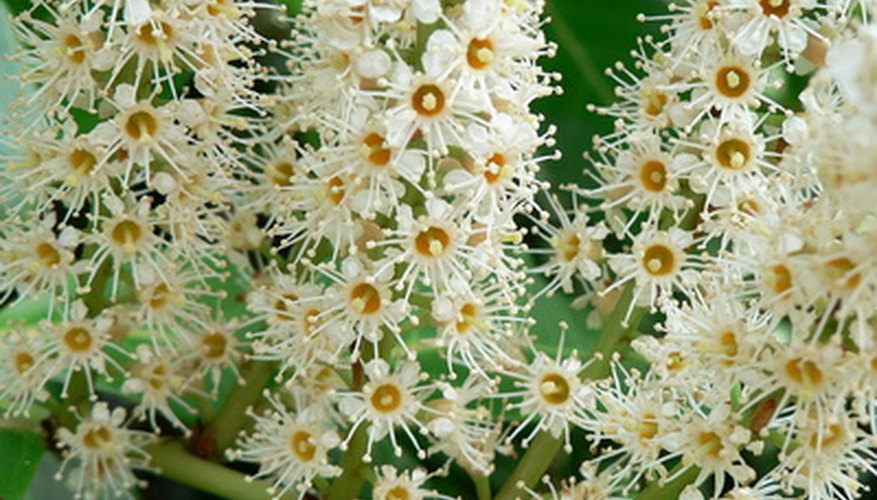 English laurel (Prunus laurocerasus) is a densely growing evergreen shrub that if left un-pruned can grow to heights of more than 20 feet. In the spring, most varieties of English laurel will produce spiky white blooms, and in fall will be adorned with bright red berries. Although English laurel prefers not to be moved, it will adapt as long as it is transplanted carefully. Don't worry if the English laurel drops its leaves after transplanting. The plant's energy is directed toward establishing the roots and it will soon rebound.
Insert a shovel straight into the soil 6 to 8 inches from the plant and rock the shovel back and forth to loosen the roots of the English laurel. Continue digging in a circle around the circumference of the English laurel, then lift the plant carefully from the ground. Try to leave as much of the roots intact as possible, along with the soil attached to the roots.
Place the English laurel in a wheelbarrow or cardboard box to transport the plant to its new location. Plant the English laurel as soon as possible. If you are unable to plant the English laurel immediately, keep it in a cool, shady place and keep the roots damp.
Dig a hole only as large as the English laurel's root system, but two to three times as wide. Put a shovelful of compost or decomposed manure in the bottom of the hole. If you are transplanting more than one English laurel, allow 4 feet between each plant. English laurel should be planted where it will be exposed to morning sunlight but protected from the rays of the hot afternoon sun, which can scorch the leaves.
Plant the English laurel in the hole with the crown of the plant, which is where the roots join the stem, 1 to 2 inches above ground level. Covering the crown can smother the plant, causing it to rot and die.
Fill the hole 1/2 full with the reserved soil, tamping the soil around the plant's roots. Continue filling the hole with soil until the hole is filled to ground level.
Water the plant deeply. Keep the soil damp until you notice new growth, but don't allow the soil to become soggy. After that time, English laurel will only need water during extended hot, dry periods.