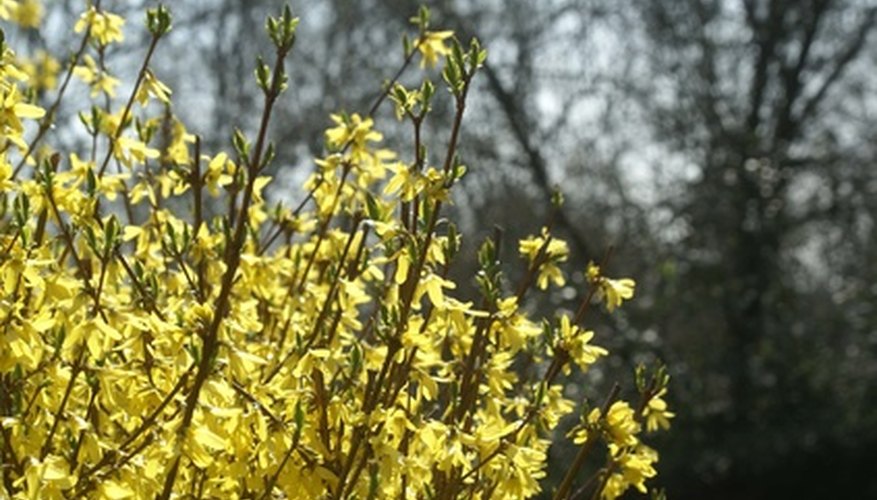 The bright, cheerful color of yellow is most welcome in spring, and in the gardens of the United States, that means March through mid-May. Early spring flowering shrubs have more impact if planted in front of a dark-colored background, such as an evergreen hedge or dark building facade. Grow daffodils, crocus and tulips around the base of yellow-flowering shrubs for added impact.
Forsythia
Branches are covered in bright yellow blossoms in early spring on deciduous forsythia shrubs (Forsythia spp.). It is a vibrant show, rivaling daffodils for attention.
Hybrid Witchhazel
Starting the floral display in the waning days of winter, hybrid witchhazels (Hamamelis x intermedia) are particularly stunning with their longer petals. Two varieties with exceptional yellow flowers include "Arnold Promise" and "Pallida".
Winterhazel
These dangling, pine cone-like flowers are fragrant and usually a delicate yellow. Winterhazel (Corylopsis spp.) blooms slightly later than forsythia shrubs, and is not nearly as brazen.
Barberry
Barberry usually evokes images of thorns and purple foliage, but all species of barberry (Berberis spp.) bear fragrant, bee-attracting yellow blossoms in mid- to late spring, partially hidden by the new leaves.
Kerria
Japanese kerria (Kerria japonica) produces brilliant yellow, five-petaled flowers in mid-spring, nicely accompanying bearded iris flowers and the start of the rhododendron blooming period.
Rhododendron
Hundreds of varieties of rhododendrons have been developed over the decades, including yellow-blooming selections like "Crest", "Creamy Chiffon", "Double Eagle", "Queen Elizabeth II", "Roza Stevenson" and "Yellow Petticoats" just to name a few. Native American azaleas with yellow and gold blossoms include the flame azalea (Rhododendron calendulaceum), Oconee azalea (Rhododendron flammeaum) and Florida azalea (Rhododendron austrinum).
Scotch Broom
Very common on roadsides in Europe, the wiry green stems are filled with tiny yellow pea-blossoms in mid- to late spring. Scotch broom (Cytisus scoparius) and hybrids, including "Allgold", are great for drought-tolerant gardens and containers.
Mahonia
Often starting to flower in late winter, mahonia bears upright spikes of tiny yellow flowers on the tips of their upright woody stems. Species include leatherleaf mahonia (Mahonia bealei) and Chinese mahonia (Mahonia fortunei) as well as hybrids.
Lady Banks Rose
A trailing, deciduous shrub, the Lady Banks rose (Rosa banksiae 'Lutea') has delicately scented flowers in early and mid-spring.
Spicebush
Commonly found in woodland settings, spicebush (Lindera benzoin) brings the hues of yellow just after the vernal equinox. Bruise the twigs and smell the spicy fragrance.
Resources