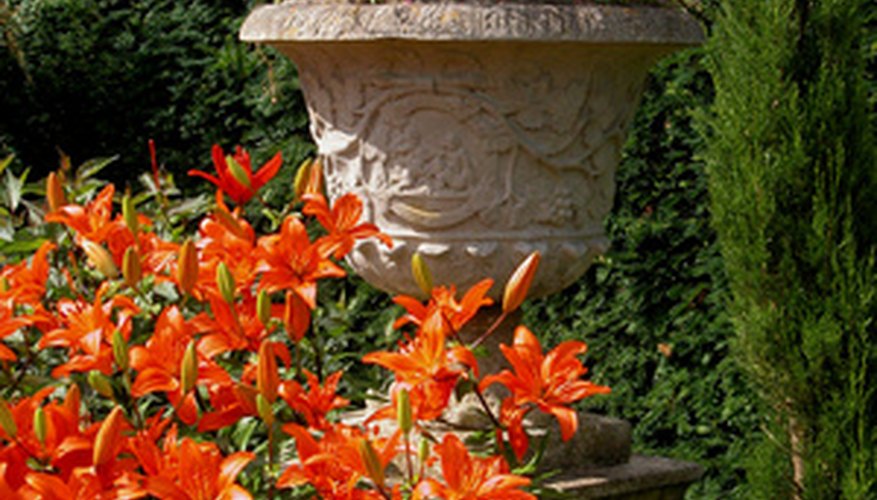 As summer approaches and the temperatures begin to rise, perennial and annual flowers and plants emerge to light up the garden. Many summer-blooming flowers are drought and heat tolerant, making for a healthy, low-maintenance flower container. Grown in dozens of varieties, each with its own distinct growing requirements, color and size, summer flowers make hardy, long-lasting flowerpot arrangements.
Perennials
Summer-blooming perennial flowers create a vibrant flowerpot arrangement. A hardy, drought-tolerant summer perennial flower is the black-eyed Susan. Black-eyed Susans have an upright, compact growth habit and prolific flowering ability. The bright yellow flower petals surround the brown, beehive-like center for a bright burst of color to the garden. A butterfly and hummingbird attractant, black-eyed Susans grow up to 18 to 30 inches tall and prefer full sun to partial shade to thrive. Black-eyed Susan blooms last through fall to create a long-lasting landscape presence.
Annuals
Annual flowers bloom and die down after one season but come in dozens of bright colors, unusual shapes and textures, for a classic flowerpot design. Verbena, a hardy annual flower, blooms in late spring to early fall, creating a long-lasting arrangement for the garden. Versatile, the mound-like shape and rapid growth rate are ideal grown in small or large flowerpots. Growing 1 to 3 feet tall and 3 to 6 feet wide, verbena is ideal tucked into containers to line a front walkway or backyard patio. The blooms on verbena grow in bright colors, including pink, white, red, blue, apricot and salmon. Frost and drought tolerant, verbena flowers require full sun to partial shade and well-drained soil to thrive.
Ground Covers
Ground covers are a flowerpot essential to plant in the front and sides of the container for a classic design. Summer-loving ground covers like gold sedum have a low, open growth habit and rapid growth rate to quickly fill out the flowerpot. Gold sedum grows 9 inches tall and 1 to 2 inches wide, ideal spreading around the base of the flowerpot for a bright burst of bright green. In summer, the yellow golden flowers emerge to light up the arrangement and contrast with the foliage. Gold sedum is also an evergreen ground cover to keep its color and foliage all year long, including winter where the green leaves deepen to bronze.
Another flowerpot ground cover to plant is creeping thyme. Drought tolerant, creeping thyme flourishes in the hot summer sun and produces tiny, aromatic flowers to light up the flowerpot. Creeping thyme grows 3 to 6 inches tall and inches wide, with a low-mat growth habit and draping ability. The shiny green leaves define the flowerpot and help contrast with bright flowers.