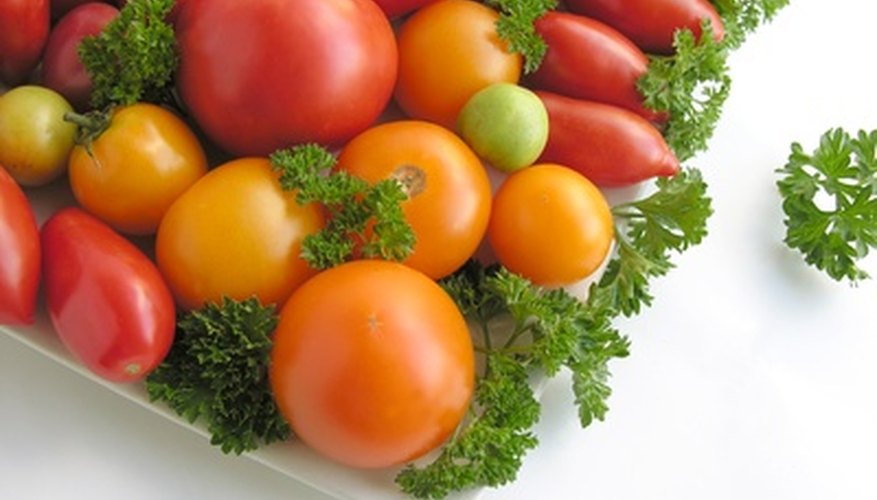 The University of Illinois says that tomatoes are the most planted home garden vegetable. That's no surprise considering the pleasure of harvesting perfectly ripe tomatoes just steps from your door. You also get to taste varieties that aren't seen in markets. To decide which varieties you want to plant, start by going for flavor. There are many regular big names at tomato-tasting festivals that are available for the home gardener.
Early Tomatoes
Anna Russian (65 days) was one of the first Russian varieties to become popular in the United States. Anna Russian came from Brenda Hillenius of Oregon, who got them from her grandfather, who had gottem them years earlier from a Russian immigrant friend. Anna has delicate, ferny foliage but is a heavy producer in both hot and cold weather.
Paste Tomatoes
Opalka (70 days) is an heirloom from Poland. It's a very flavorful paste tomato, bearing 5-inch long, meaty red fruits that are almost seedless. The plant is very sturdy, often the tallest plant in the garden. Opalka is full of refreshing, sweet flavors, perfect for sauce or fresh eating. This is a large plant, but it also does well in a large container.
Beefsteak Tomatoes
Sudduth's Strain Brandywine (85 days) is a large slicing or beefsteak tomato and is the tomato that all others are compared to for flavor. There are many Brandywine varieties, but Sudduth's Strain is consistently one of the best. This classic Brandywine type is a pink tomato that can grow upwards of a pound. Brandywine is not a heavy cropper, but it makes up for lack of quantity with legendary quality.
Cherry Tomatoes
Sun Gold (55 days) is, according to Laurel of Laurel's Heirloom Tomato Plants, "one of the best cherry tomatoes I've ever tasted." It is extremely early and has huge, complex flavors, just like a full-size tomato. The deep-golden fruit average an inch across, growing in large trusses on a very large plant.
Smaller-Than-Cherry Tomatoes
Tess's Land Race (75 days) is the result of a two-generation, five-parent cross by Brett Grohsgal of Maryland's Even' Star Farm. The intensely flavored pea-sized fruits come in dark red, pink, yellow, and gold. The large, sprawling plants need to be staked or caged. Harvesting whole trusses at one time makes for quicker picking, and they make a great table display.