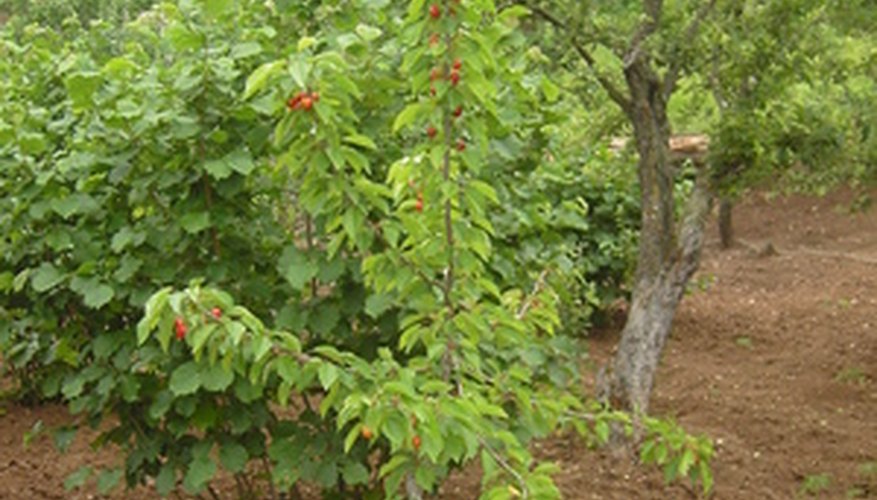 Caring for your fruit trees over winter is an important factor for superior fruit yields the next year. There are many types of fruit trees and varieties. Some of these trees may require special care to get them through the cold winter season. Consult your local agricultural extension service for any specific needs the fruit trees may require. Most all fruit trees, however, can benefit if you perform some basic tasks during the winter months.
Inspect the trees for any signs of insect nests. Typically, these nests may remain hidden during the growing season and only can be seen when all the leaves are shed from the tree. Nests may come in the form of small web structures or small pieces of bark in an oval shape. Destroy all nests with your hands and fingers.
Prune the fruit trees according to the variety of tree and species. There are many techniques for pruning different fruit trees. Consult your local extension service for specific details for limbs to be cut removed. The age of the tree may also determine pruning times and techniques. The best time to prune any fruit tree is during the winter, when no insects can invade the open wounds. Some fruit trees may succumb to winter damage if too many limbs are removed. Remove all cut limbs from the area of the fruit trees. The limbs will attract insects in the spring and may contaminate the tree if left nearby.
Rake the area around the base of the fruit tree to remove all dead leaves. Leaves can conceal pests. Place the leaves in a compost pile or in an area far away from the fruit trees.
Add the correct amount of tree fertilizer according to the variety and age of the tree. Winter or late fall fertilizer application will stimulate and feed root growth.
Use a shallow hand cultivator and remove all weeds around the base of the tree. Weeds will compete for water during the growing season and are best removed during the winter months. The cultivated area should extend from the trunk of the tree to the outer perimeter of where the branches hang. This is also known as the tree's drip line. Exercise caution so as not to damage any shallow roots of the fruit tree. Different varieties of fruit trees may have various rooting patterns.