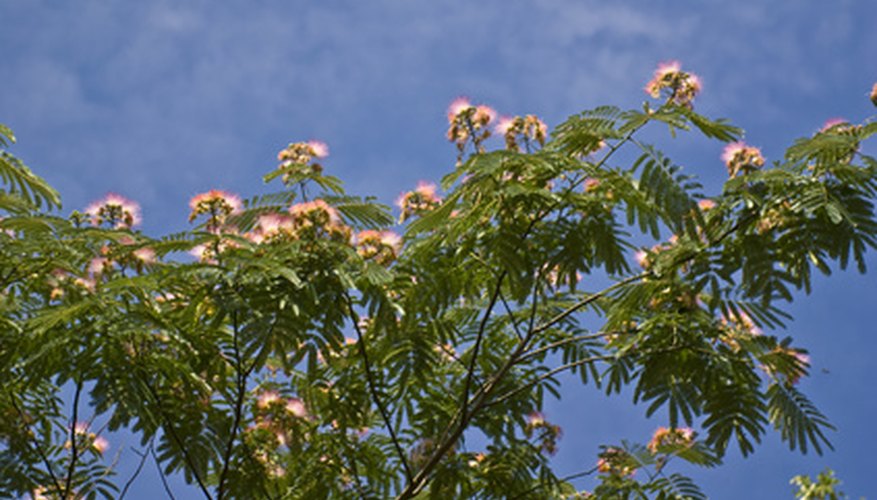 Mimosa Tree with blooms image by Photoeyes from Fotolia.com
Flowering trees add color and fragrance to landscapes. But it is not always practical to wait decades for them to reach optimal size. Instead of waiting, plant fast-growing flowering trees that typically grow 2 feet or more each year until they mature.
Paulownia Tomentosa
Paulownia tomentosa, also known as the royal empress tree, empress tree, foxglove tree, princess tree, and royal paulownia, grows up to 12 feet per year until it reaches a height of 40 to 60 feet. It produces showy, fragrant, lavender flowers midspring. It will tolerate a variety of soils provided they are well drained and the planting location is protected from wind. This tree is hardy in USDA Zones 5 to 9. It is considered invasive in some areas such as Connecticut and Tennessee.
Liriodendron Tulipifera
Liriodendron tulipifera is known as the yellow poplar, tulip poplar or tuliptree. It can grow up to two feet a year for the first decade, but then its growth rate will slow down with age. Eventually it can reach heights of 70 to 100 feet with a 40 feet spread in USDA Zones 4 to 9. Its spring flowers are greenish yellow, aromatic, and shaped like tulips. A U.S. native, it is highly resistant to disease and insects and likes full sun with a moist, well-draining soil. It is a good tree for attracting hummingbirds, birds, squirrels and butterflies.
Lagerstroemia Indica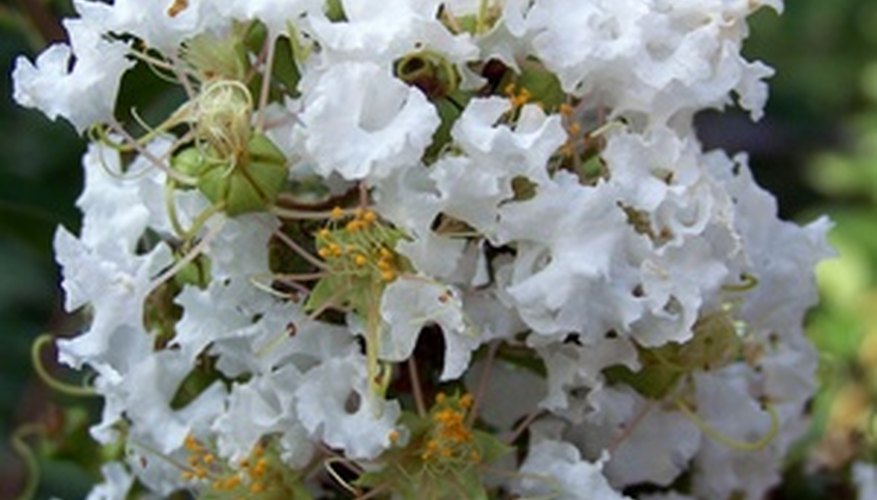 white crape myrtle image by tomcat2170 from Fotolia.com
Lagerstroemia indica, or crape myrtle, produces 6 to 8-inch long flowers in shades of pink, purple, white and red during mid- to late summer. In the fall, their leaves put on a secondary show by turning various shades of red, orange and yellow. Crepe Myrtles grow best in full sun with a well-drained soil in USDA Zones 7 to 9. At maturity, this tree will reach a height of 15 to 20 feet with a 6 to 15-foot spread.
Albizia Julibrissin
Albizia julibrissin is known as the mimosa or hardy silktree. During the summer it attracts hummingbirds with its delicate pink clusters of flowers about 2 inches in diameter. It quickly grows to a height of about 30 feet and is tolerant of a wide range of soils in USDA Zones 6b to 9. It is susceptible to webworm and short lived (about 10 to 20 years).
Magnolia
Although magnolia trees are known for their flowers, not all are known for being fast growing. Only two species fall into this category: Magnolia virginiana, or sweetbay magnolia, and Magnolia acuminata, or cucumbertree magnolia. The sweetbay magnolia produces 3-inch long, lemon-scented, white flowers during the late spring and early summer. For best results, plant it in USDA Zones 5 to 9 in a location that has moist, acidic soil and is in sun to partial shade. It grows up to 60 feet tall with a 10-foot spread. Cucumbertree magnolias have greenish-yellow flowers that appear from May to early June. It can be planted in USDA Zones 4 to 8 in a moist, well-draining soil in full sun. It does not tolerate droughts or wet soil. It grows about 50 to 80 feet tall with a similar spread.
References