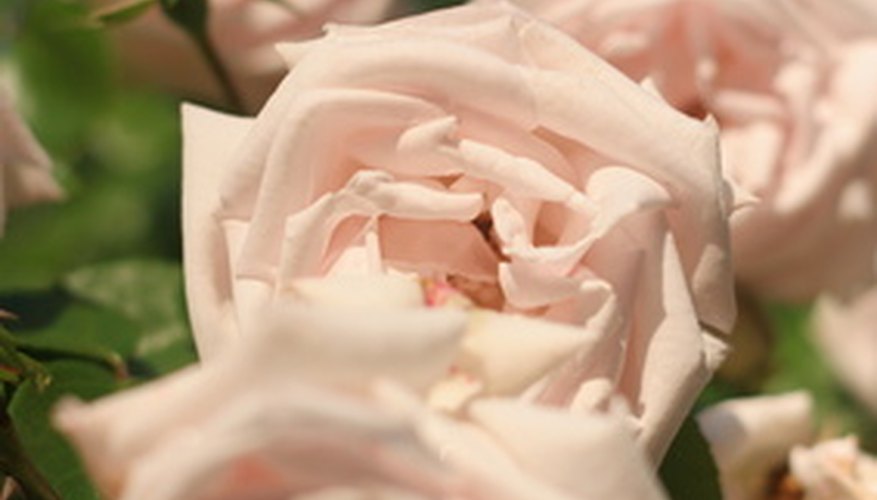 Fossil evidence suggests roses have been growing for 35 million years, according to the University of Illinois Extension, but their proliferation belies the special care that should be taken when planting any of the 150 species that exist today. Rosarians, as rose experts are called, know that giving plants a good head start when sinking them into soil will better ensure they survive and thrive, be they old-fashioned gallicas or hybrid rainbow sorbets. Minimal growing requirements, however, are easily accomplished.
Sunlight
Roses grow best if planted in a spot that receives at least six hours of daily sunlight, according to the University of Missouri Extension. Morning sun is preferred to afternoon sun because it helps dry leaves, thereby helping to prevent disease, and will not burn leaves or petals.
Fertile Soil
When planting roses, avoid heavy clay or sandy soil with poor nutrient properties and a tendency to become soggy. The plants instead prefer relatively fertile soil, high in organic matter and that drains well, according to the University of Missouri Extension.
Soaking and Trimming
Soak bare-root rose bushes in a bucket of water for 8 to 12 hours to rehydrate roots for planting, advises the University of Illinois Extension. The whole plant can be immersed if the canes above roots are also dry. Trim damaged and diseased roots after soaking. Leaving three to five canes per plant, and three to five buds on each of those, will spur growth. If the plant has already broken dormancy, trim any soft white shoots to 1/8 inch.
Spacing
Roses, other than some shrub and climbing varieties, usually do not like to be crowded by other plants, trees or shrubs, according to All American Rose Selections. Spacing varies, depending on variety, but The Ohio State University Extension suggests planting hybrid teas, grandifloras and floribundas 18 to 30 inches apart, climbers 8 to 12 feet apart and miniatures 12 to 15 inches apart.
Depth, Water and Fertilizer
Dig holes that comfortably accommodate the plant's root system. All American Rose Selections states that holes should measure about 15 inches deep and 18 inches wide. Form a small dirt mound in the center to support the plant, and add a handful of bonemeal. Texas A&M University Horticulture Department states other organic matter, like peat moss, compost and dehydrated cow manure can also be poured in. Fill the hole about two-thirds full and add water to make a slurry that will collect between roots. Continue this layering until the hole is filled.
Protection
Roses that are still dormant when planted need protection from harsh spring weather and to encourage budding. Place a temporary soil mound over the plant, up to 10 inches, to keep the buds moist. Leave soil in place until growth begins.