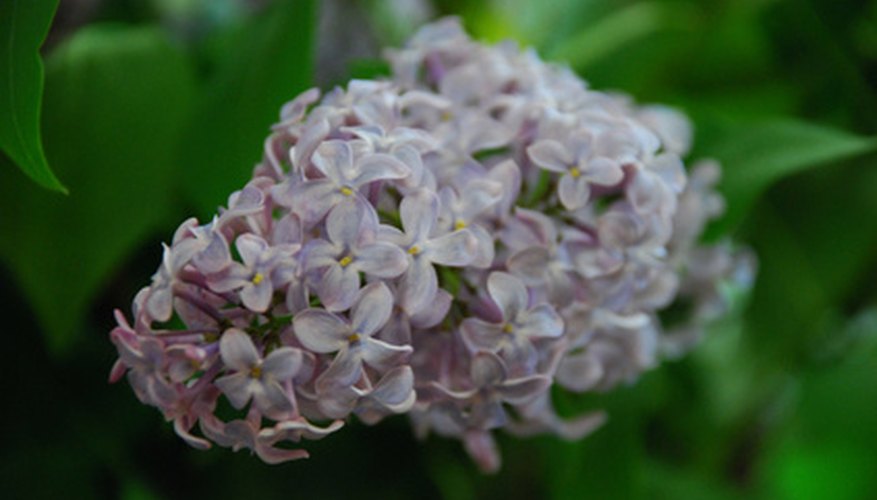 Blooming lilac trees, with their long panicles of fragrant purple flowers, are for many people true testimony that spring has finally arrived. Thriving in all but the warmest and most humid areas of North America, they are often planted near back entries or kitchen windows where their fragrance can be easily enjoyed. Often full and bushy, many lilacs grow into small trees with tall and leggy trunks. If you own a lilac of any size or shape, or if you have access to a neighbor's, they are among the easiest landscape plants to propagate by layering.
Choose a flexible shoot from the base of the trunk which is about 24 inches long and 1/4 inch thick.
Strip about 6 inches of leaves from the stem about 10 inches from the top.
Cut a 1/2-inch diagonal slit with a sharp clean knife about midway on the stripped-out area. The cut should go no deeper than 1/4 the diameter of the branch.
Dig a hole about 3 inches deep and wide about 12 inches from the base of the shoot. Improve the soil with about 1/3 compost. Replace the bottom 2 inches of soil.
Bend an 8- to10-inch length of stiff wire, such as clothes hanger wire, into a tight U.
Sprinkle rooting hormone over the cut then gently lower the stem to the hole, using the wire to hold the cut section firmly in place.
Cover the hole with the remaining soil and place a rock about the size of a large baked potato over it to keep it in place.
Place a 12-inch garden stake 6 inches into the ground next to the shoot, gently bend the stem so that it is upright, and tie it to the stake in two places.
Cut the top of the stem so that it is 6 to 8 inches tall.
Give the new plant the same care you would give the whole tree. If there is drought, make sure they get enough water so they don't dry out.
Continue this care for one year then remove the rock and scratch around the base to make sure there are roots.
Free the new plant from the ground by digging gently. Sever the lilac from the mother plant with sharp pruning shears and plant it in its new location.
Things You Will Need
Sharp knife

Pruning shears

Garden stake

Garden twine

Stiff wire

Rooting hormone

Compost
Tips
Late spring is the best time to begin soil layering shrubs and trees.

Layer a few extra stems to ensure enough will survive to meet your needs.

Old-fashioned lilacs are prone to mildew in humid climates, so choose an airy, sunny location to plant your new lilacs.