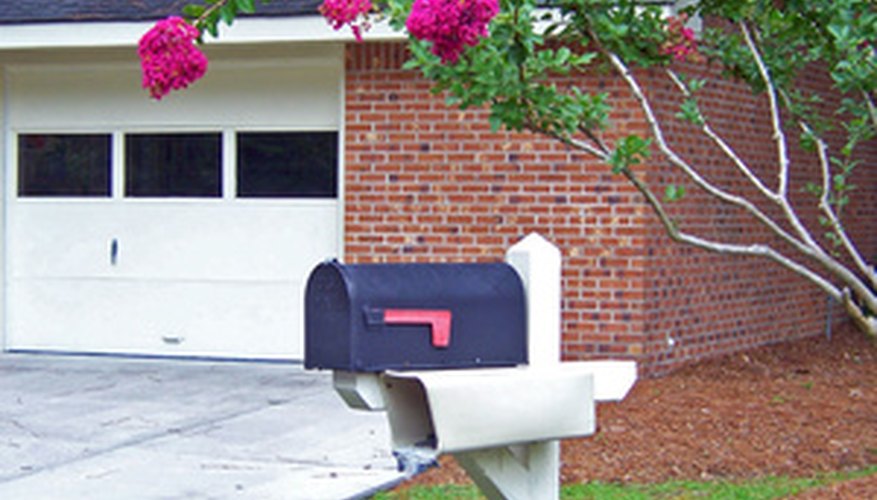 The area around a homeowner's mailbox is often a forgotten extension of their landscaped yard. There are many creative planting ideas for turning a boring curb into an appealing landscaped area. Just keep the mail carrier in mind when deciding on what to plant; avoid roses or other thorny plants to keep fingers and hands prick free.
Formal Mailbox Garden
Large, stately mailboxes covered in brick or stone offer an ideal background for topiaries and other formal ideas. Try filling the flowerbed with matching pebbles as mulch. Edging the garden area with coordinating stone will help keep the pebble mulch neat and tidy. Low, spreading groundcovers such as miniature sedums or creeping thyme can be an asset as they are naturally clipped in habit and appearance. Add a striking statue to finish off the look of this garden.
Mailbox Grotto Garden
If you are handy with cement and stone, try turning your mailbox into an enchanted grotto. Create an archway out of porous stones to give the mailbox an enchanted-forest appeal. The stone's rough texture will allow mosses and other clinging plants to grow with ease to soften the stone's hard edges. Try planting a fragrant vine, such as jasmine, to ramble over the grotto. Irish moss, portulaca, violets and African daisies are good choices for this garden.
Japanese Mailbox Garden
Try building a wall of shelves on either side of the mailbox. The shelves can hold bonsai and other potted plants. A small pond will add to the tranquility of this setting. Install outdoor "paper" lanterns or another form of soft lighting to show off the bonsai at night. Good plant choices for this garden idea include Japanese maples, dwarf shrubs and trees, sweet flag, waterlilies and lotuses.
Butterfly Mailbox Garden
For a most pleasant stroll to check the mail, try planting a roadside butterfly garden. Setting out saucers filled with rotting fruit will attract the nectar-loving insects. Bee balm, daisies, coreopsis, fleabane, butterfly weed, hibiscus, trumpet vine, jasmine, lantana, heather and salvia are good plant choices for a butterfly garden.
Low-Maintenance Mailbox Garden
For an easy-care roadside garden, try planting sedum and other low-maintenance plants. Postman's pride sedum, bee balm, hardy hibiscus, wild strawberries, wooly violets, lavender and indigo are all plants that virtually take care of themselves once established. Mulching the garden with rich, thick compost and using a slow-release fertilizer will help keep watering and feeding plants to a minimum. For the lowest gardening maintenance, try planting perennials and annuals that are slow to spread. The edges of the mailbox garden can be planted with miniature, creeping plants such as Turkish sedum (Sedum bithynicum) or wood sorrel (Oxalis acetosella).
Resources