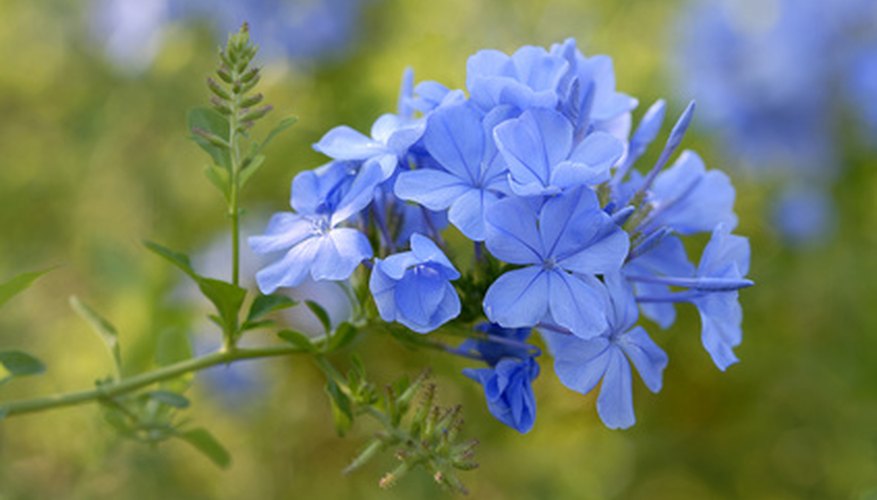 Oklahoma may be the state where the "wind comes sweeping down the plain," but it's also a state where the sun shines 300 days a year, fall lasts well into December, and when winter does arrive, it remains mild and doesn't stay long. Oklahoma Sate University helps local gardeners take advantage of the climate with their yearly selection of Superior Plants Recommended for Oklahoma. Among their past selections are several sun-loving smaller blooming plants that brighten their surroundings for several months each year.
Rose Verbena
The Homestead Purple variety of rose verbena (Verbena canadensis) is a 2002 Oklahoma Superior Plant. A sun-loving perennial standing between 6 and 18 inches high and spreading 1 to 2 feet, rose verbena grows wild on the Oklahoma prairies, along the roadsides and in rocky glades. Gardeners will appreciate its April-to-October flowering season.
An effective ground cover, rose verbena will root wherever its branches touch the ground. Its upright stems produce abundant flat clusters of rosy pink to purple blooms above deep green 4-inch leaves. The Rosea variety of rose verbena, advises the Missouri Botanical Garden, stands no more than 12 inches high and makes an excellent addition to rock gardens. Plant rose verbena in dry to moist--not wet--well-drained soil and full sun. Good drainage is essential. In ideal growing conditions, the plants will self-sow.
Perennial Plumbago
Perennial plumbago (Ceratostigma plumbaginoides) is a 9-to-12-inch high perennial and one of the superior plants recommended for Oklahoma in 2005. Spreading between 12 and 18 inches, perennial plumbago makes an effective ground cover and blooms from July to the first fall frost. While it has a shorter flowering period than rose verbena, perennial plumbago's shiny green leaves turn an attractive reddish-bronze in autumn. Stems bear clusters of small 5-petaled blue-violet flowers similar to phlox blossoms.
Perennial plumbago is especially useful in spring bulb gardens because it leafs out in time to hide dying bulb foliage. Plant it in full sun and well-drained dry to moist--not wet soil. It's not fussy about soil type as long as the drainage is adequate. This plant spreads by rhizomes (underground stems) and in the best conditions may invade other garden areas.
Summer Snapdragon
Another 2005 superior plant recommendation, perennial summer snapdragon (Angelonia angustifolia) grows 12 to 18-inches high and spreads up to 1 foot. It's unrelated to annual snapdragons. The bushy plants, however, do produce rose-pink to violet 8-inch spikes of snapdragon-like blooms from June to fall. Their leaves are slightly aromatic.
Summer snapdragon holds up well in summer heat. It needs a sunny location with moist, well-drained soil. Plants may suffer from aphids, but spraying them with a soap and water solution will usually correct the problem. Summer snapdragon does well as a container plant.