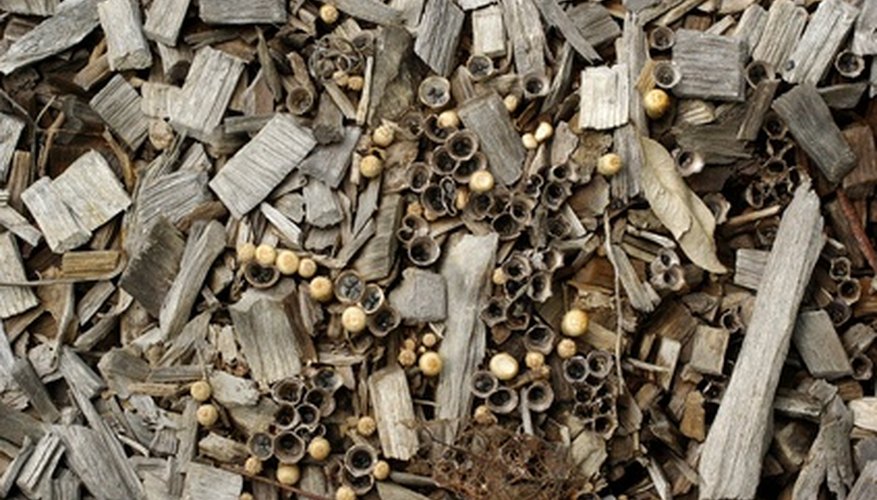 Greenhouses aren't structures that are well-insulated. So if you are planning on growing plants throughout the winter, you should plan to incorporate an additional heating system in your greenhouse. Although some greenhouses rely on wood-burning systems and forced air to heat the structure, this can become expensive. According to the University of Massachusetts, a greenhouse may require 194 tons of wood chips or 74 cords of wood to heat through the winter. According to the Centre for Alternative Technology in the UK, you can defray the cost of wood heating by adding heat with a compost pile in your greenhouse.
Burning Wood Chips
Select a wood-burning system for your winter composting. Choices range from forced-air systems such as a furnace or a water-heating unit such as a boiler. Most greenhouses rely on a system of boilers to circulate pipes of hot water through the greenhouse to put heat where you want it. Professionally manufactured units also must meet state codes for emissions.
Install your system in your greenhouse. Most boiler systems for greenhouses place the boiler outside the greenhouse, water storage tanks beneath the greenhouse and the pumps, pipe and thermostat inside the greenhouse. The pipes should be installed on the walls surrounding the greenhouse for the most efficient distribution of heat.
Choose between firewood or wood chips. Unless you have a resource for firewood, such as your own plot of woodland where you can cut the wood, you may wish to choose wood chips. Many wood chip or pellet systems have the benefit of automatically feeding the chips into the fire, requiring less work on your part.
Compost System
Dig trenches throughout your greenhouse for composting inside the structure. Compost trenches must be at least 3 feet square.
Fill the compost trenches two-thirds full of wood chips and one-third full of manure. Stir the compost completely and wet so that it is the consistency of a wet sponge.
Cover your compost trench with ¾-inch plywood sheeting to create walking paths over your compost trenches.
Check the internal temperature of your compost and stir the contents of the pit anytime the temperature drops below 120 degrees F. As the compost heats up, it will warm your greenhouse.