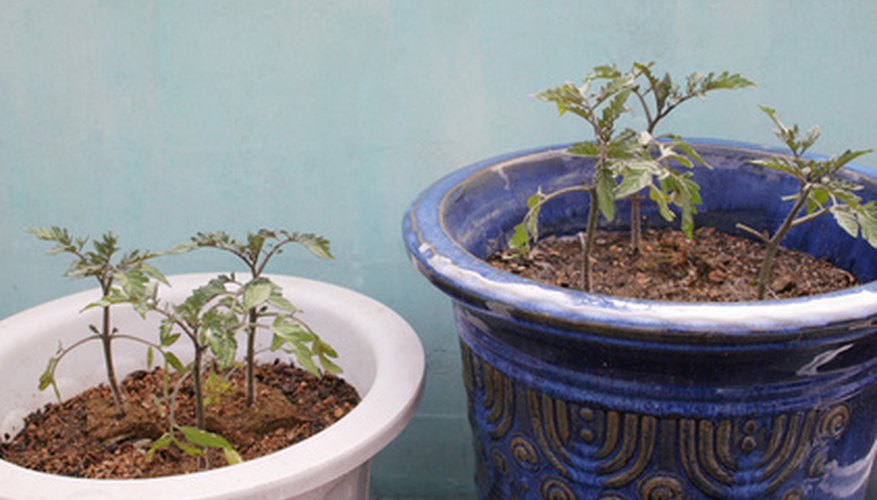 Growing tomatoes indoors is an alternative to traditional outdoor gardens and purchasing store-bought tomatoes. Allow plenty of room for growing tomatoes indoor. Select the best varieties to insure the largest tomato yield. The University of Illinois Extension recommends 'Tiny Tim,' 'Cherry Gold,' 'Red Rob,' 'Yellow Canary' or 'Small Fry' for growing tomatoes indoor.
Wash and dry a 5 gallon container to plant your tomato seedlings. According to the University of California Extension, this is the best size for indoor tomato container gardens.
Drill 3 to 5 drainage holes in the bottom of the container. Use a ruler to measure 2 inches from the base of the container. Mark the spot. Repeat around the side of the container every few inches. Drill holes on the spots marked. Plants need proper drainage to prevent stress and diseases for growing tomatoes indoor.
Mix 1 part cow manure with 4 parts potting soil to add additional nutrients to the soil to grow tomatoes indoors. According to Texas Gardener, tomato plants need organically rich soil to produce the highest fruit yield.
Fill the container three-fourths of the way full with potting soil mixture. Water the container with 2 inches of water. Allow to completely drain before proceeding.
Make two small holes in potting soil to plant your tomatoes indoor. Holes should be approximately 1/2 inch deeper than the bottom of the root ball to the first leaf on the tomato seedling. Usually an 8 to 10 inch hole is plenty deep.
Pick up the tomato seedling container. Turn the container upside down while grasping the base of the stem with your thumb and pointer finger. Gently pull the seedling out of the container. The University of California Extension recommends tomato seedlings be a minimum of 6 to 8 inches tall with ample amounts of healthy leaves and strong stem for transplanting.
Pinch off the last row of leaves at the base of the tomato plant. Gently squeeze the root ball to loosen the roots. Place the seedling in the hole. Repeat the previous step to remove a second seedling from the container. Repeat this step to plant the second seedling.
Fill in the holes with the potting soil mixture and lightly tap the soil to secure the tomato seedling in the soil.
Fill in the remainder of the container with organic mulch. Spread evenly around the container and the base of each tomato seedling.
Place the container in a location to receive a minimum of 6 hours of direct daily sunlight. If needed, set up plant grow lights near the container and set the timer for 6 hours.