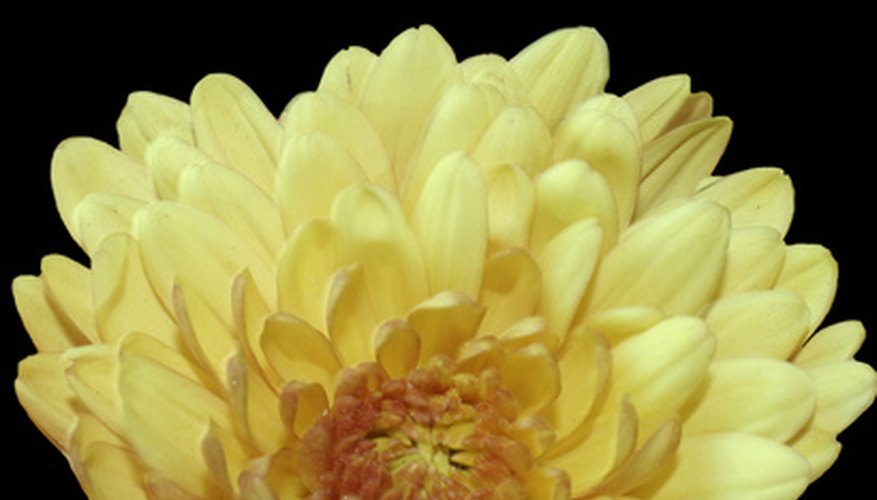 When the leaves begin to change to their fiery fall colors and the temperatures drop, many flower varieties emerge to light up the garden. Grown in a wide range of sizes, shapes and colors, fall-blooming flowers complement the fall leaf colors while providing a burst of showy blooms to the landscape.
Goldenrod
Goldenrod (Solidago cutleri 'Goldrush') is a fall-blooming perennial flower with a moderate growth rate and spreading habit. Compact in size, goldenrod grows 12 inches tall and 1 to 3 feet wide, ideal for a ground cover or nestled along a garden border. Drought- and frost-tolerant, goldenrod have small yellow flowers that produce masses of the tiny blooms. Goldenrod flowers attract butterflies to the garden for the quietessential garden feel. The bright green, 1-foot tall stem holds each bloom and makes for an ideal fresh-cut flower. Goldenrod flowers require full sun and well-drained soil that is nutrient-rich. To promote flowering, deadhead or remove the old bloom as soon as it is noticeably wilted. Goldenrod can be divided in spring or fall to spread to other areas of the garden. The USDA Hardiness Zone for planting is 4 to 9.
Chrysanthemum
Chrysanthemum (Chrysanthemum morifolium) are fall-blooming perennial flowers that light up the landscape with their bright blooms. With its clumping growth habit, the chrysanthemum grows 12 to 36 inches tall, ideal tucked into containers along the garden. Chrysanthemum blooms grow in clusters of flowers that come in a wide range of colors including red, white, yellow, red and orange. To encourage a compact, bushy growth, cut back the chrysanthemum in early spring or summer. Chrysanthemum flowers require full sun and well-drained fertile soil. Divide chrysanthemum flowers in spring or fall to plant in other areas of the garden. The zone for planting is 5 to 9.
Heath Aster
Heath aster (Aster ericoides), a bushy perennial flower, has a clumping growth habit and colorful flowerheads. Heath aster emerges in late summer to last through the fall.The upright, slender stems hold the green, lance-shaped leaves. Heath asters produce white, pink or blue flowerheads that have a yellow to orange center and are often tinged in blue or pink. A butterfly attractant, heath aster flowers are ideal cottage garden blooms. Heath asters require full sun and an open location that's well-drained and nutrient-laden. The zone for planting is 5 to 8.