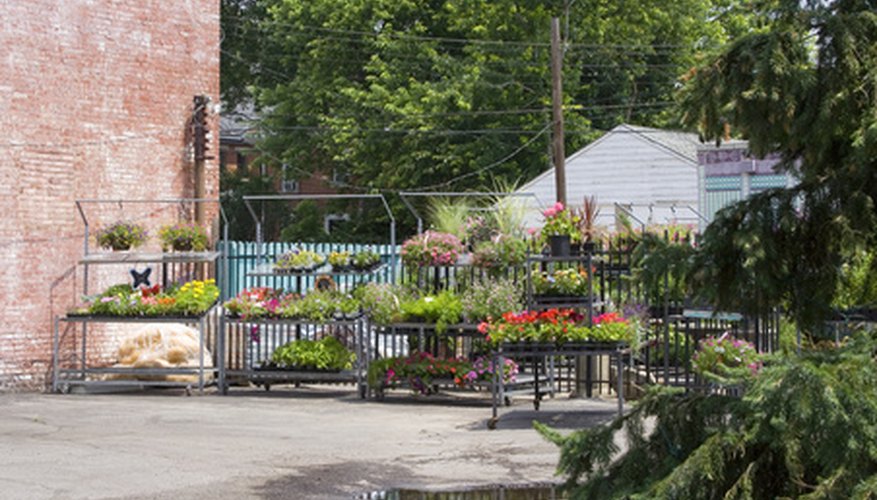 Urban gardens can transform a blighted space into a place of beauty and community. They can provide fresh vegetables for apartment dwellers or respites from traffic and bustle. Almost any space that receives six to eight hours of sunlight a day, is out of the way of traffic and has access to a water source can be an urban garden.
Container Gardens
Balconies, front stoops, fire escapes and back decks can become gardens with the use of containers. Plant flowers, vegetables and even small trees in planters, flower pots, wooden barrels, hanging baskets, window boxes or galvanized tubs. Fill the containers with good quality potting soil, provide plenty of water and regular applications of fertilizer and you can raise fresh herbs, vegetables and flowers.
Rooftop Gardens
Containers play a role in rooftop gardens as well, but allow for gardening on a larger scale. Roofs can make ideal garden spaces, since they get plenty of sunlight and are out of the path of traffic. A rooftop garden can even improve the energy efficiency of a building and improve the surrounding air, according to horticulturalists for the city of Chicago, which has encouraged rooftop gardening in the city. You'll need permission from your landlord to start a rooftop garden.
Community Gardens
Community gardens divide vacant land into plots, which individuals or groups can plant with their choice of vegetables or flowers. Community gardens allow apartment dwellers to grow crops such as corn that don't grow well in containers or balconies. In addition to providing fruits and vegetables, community gardens foster a sense of community and can be the source of new friendships.
School Gardens
School gardens make gardening part of the curriculum. Students learn math, biology, history and other lessons as they plant and raise vegetables, herbs and flowers. In some inner city schools, the produce from gardens goes home with the students to help supplement the family diet, while in other areas, the schools sell the produce to the public to raise money for special programs, or use the produce of the garden in the school cafeteria, reducing the cost of that program.
Resources