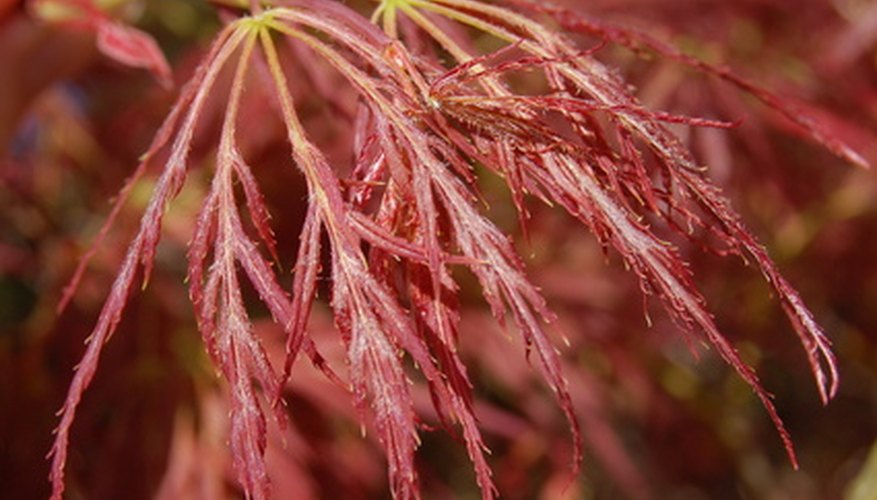 Japanese maples can offer unusual leaf and bark colorations to North American landscapes. They often boast red, purple and green leaves, and on some Japanese maples, the leaves will change color over the season. Japanese maples are generally smaller than North American maples and do best in partial sun.
Sango Kaku
Sango kaku are Japanese maples that have an upright growth pattern. Sango kaku can grow to 25 feet tall with a spread of 15 to 20 feet. Sango kaku, called "coral bark" in the U.S., has a green summer bark that turns coral red during colder winters. The colder the temperatures, the redder the winter bark.
Sango kaku grows in United States Department of Agriculture (USDA) Hardiness Zones 6 through 8. This moderate to slow growing tree does best in partial sun, but can also tolerate full sun.
O Kagami
O kagami Japanese maples are smaller maples that only grow 10 to 15 feet tall. New growth on this tree is a lighter red that turns darker red before turning green later in the summer. The leaves turn red in the fall before this tree drops its leaves.
O kagami grow well in USDA Hardiness Zones 5 through 8. O kagami do best in partial sun that do best with morning sun than the hot, drying afternoon sun. This variety does well in shade, but will not have the intense colors of Japanese maple trees grown in full sun.
Sumi Nagashi
Sumi nagashi is a semi-upright Japanese maple that can reach heights of 15 feet. Sumi nagashi has large leaves that grow purple red until summer. In summer, the leaves turn darker. By autumn, the leaves turn crimson. The bark on this tree is green. The sumi nagashi's leaves are very deep-lobed.
Sumi nagashi grows in USDA Hardiness Zones 5 through 8. Like other Japanese maples, this tree does best with partial sun that emphasizes the morning sun over the afternoon. This tree will also do well in shade, but will not be as intensely colored as trees grown in partial sun.