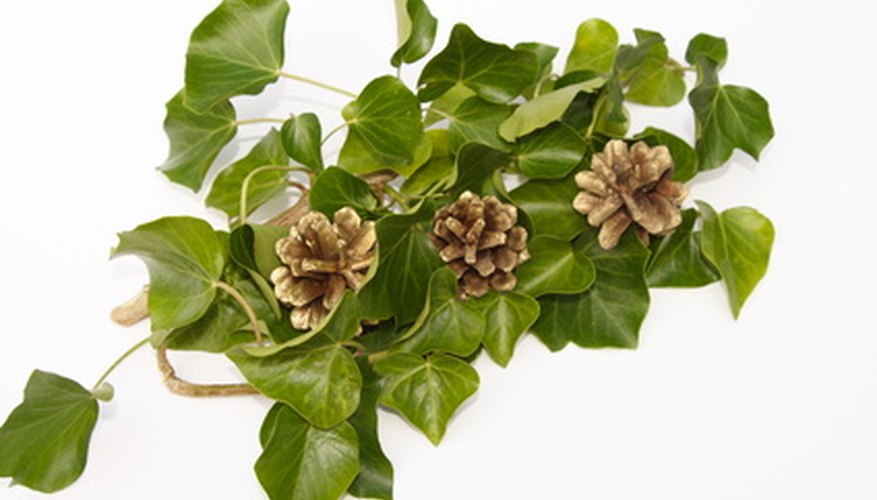 ivy and pine cones image by Alison Bowden from Fotolia.com
Ivy, an evergreen perennial traditionally used as a ground cover, is closely associated with fidelity, eternal love and matrimony. Popular varieties such as English ivy are often incorporated into wedding décor as greenery, cake decoration or additions to landscapes. However, ivy takes the center stage when used as take-home centerpieces, in the bouquet or as a non-traditional escort card display. In addition, English ivy is often used in a variety of wedding accents that guests and members of the wedding party will enjoy for years to come.
From Bouquet to Houseplant
According to The Wedding Place, a full-service bridal shop in Fort Wayne, Indiana, ivy was once used in bouquets by royalty. Oftentimes these royal newlyweds would root the greenery for use as a houseplant. This tradition now allows couples to bring home a keepsake from their wedding that they can cultivate and grow for years to come. English ivy works well for this purpose because it is easily rooted and is well adapted to indoor life. English ivy is used as a hanging plant as well as in dish gardens or as a topiary plant. Plant English ivy in a peat-based potting soil to keep the soil drained. English ivy prefers shady conditions and should not be placed in direct sunlight.
Table Decorations
English ivy is a great table decoration for casual weddings. "The Everything Wedding Book: The Ultimate Guide to Planning the Wedding of Your Dreams," by Shelley Hagen, states that English ivy is often used as an attractive but inexpensive table decoration. Arrange potted ivy plants in decorative baskets and allow guests to take one pot home as a keepsake. Other ideas include filling glass bowls with ice water and floating a combination of flower blossoms and ivy leaves.
Topiaries
English ivy is a popular topiary plant. Try using topiaries in nontraditional ways such as an escort card display. Arrange various-size English ivy topiaries near the reception entrance. Punch holes in the top center of your escort card. Tie the cards to the topiary by using complementary ribbon or pin the card onto a fabric tag and hang on random ivy branches. Following the wedding ceremony, English ivy topiaries can be given to special guests as thank-you gifts.