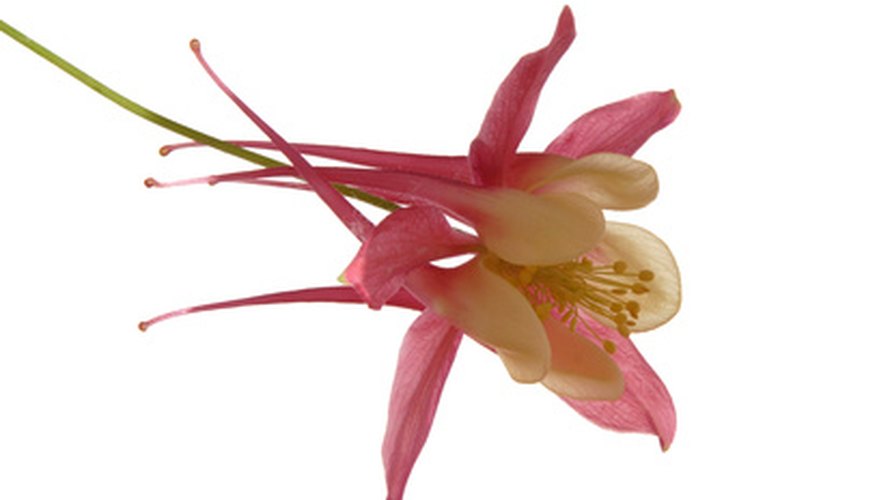 Ohio lies within a humid continental climate, which means hot, muggy summers, cool to cold winter weather and moderate precipitation throughout the year. If you live in Ohio, select flowering plants according to general culture, bloom time, mature size and intended use. Many flower varieties commonly perform well in Ohio gardens.
Foxglove Beardtongue
The foxglove beardtongue (Penstemon digitalis), also called the talus slope penstemon and the smooth white beardtongue, belongs to the figwort family (Scrophulariaceae) and naturally occurs in moist, low areas across Ohio. Mature plants reach between 2 and 5 feet in height. This hardy perennial blooms from May through July, featuring clusters of paired, white flowers with purple lines on their throats. This beardtongue variety prefers acidic, loamy soils in partly shady to fully sunny locations. Gardeners often plant the foxglove beardtongue in hummingbird gardens, woodland margins, and moist prairie gardens.
Wild Red Columbine
Wild red columbines (Aquilegia canadensis), sometimes called eastern red columbines, reach up to 2 feet in height and bear attractive, green to blue-green leaves. Showy, bell-shaped, yellow and red flowers bloom from February through July. This buttercup family member (Ranunculaceae) likes well-drained, alkaline soils in partly to fully shady locations. Ohio gardeners often plant wild red columbine in hummingbird gardens, woodland margins, butterfly gardens and containers.
Wild Bergamot
Wild bergamot (Monarda fistulosa), also known as beebalm, is a mint family member (Lamiaceae) that produces fragrant, grayish-green leaves often used in herbal teas. This herbaceous perennial features ragged clusters of white, pink or pale purple flowers that bloom from May through September. These showy clusters sit on top of stalks ranging from 2 to 5 feet in height. Wild bergamot plants prefer moist, well-drained soils in partly shady to fully sunny locations. This bergamot species naturally grows along Ohio woodlands and ditches. Gardeners also plant wild bergamot in herb gardens and wildflower meadows.
Jerusalem Artichoke
Jerusalem artichokes (Helianthus tuberosus ), sometimes called sunchokes, belong to the aster family (Asteraceae). This perennial bears thick, yellowish-green leaves and hairy stalks that range from 6 to 10 feet in height. Large, yellow, pink or red flowers bloom from August through October. The Jerusalem artichoke likes moist to dry soils that receive plenty of sunlight. This common Ohio plant often spreads aggressively in garden settings but typically works well in woodland borders and waste areas.
Pride-of-Ohio
The Pride-of-Ohio (Dodecatheon meadia), also called the eastern shooting star, belong to the primrose family (Primulaceae) and typically ranges from 6 to 20 inches in height. This perennial features vibrant green leaves, arching stalks and flower clusters that appear in May and June. These clusters consist of nodding, star-shaped, white to dark pink blossoms. Pride-of-Ohio plants prefer moist, acidic soils in partly shady positions. Ohio gardeners often use this native flowering plant in prairie gardens and woodland margins.