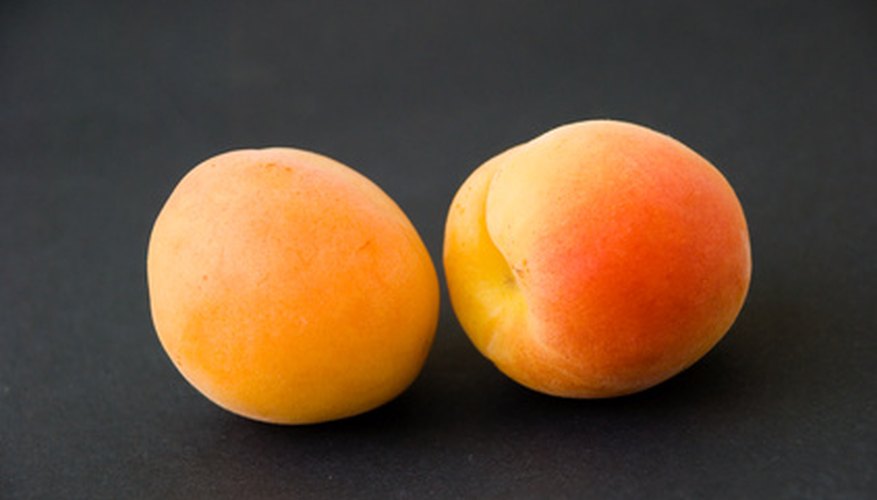 If you are looking for a gardening challenge, grow apricots in Missouri. According to agriculturists at the University of Missouri, because of their early bloom, apricots are the most difficult stone fruit to grow in the state. Apricot trees bloom the last week of March in central Missouri, subjecting the blossoms to frost damage. The good news is that the apricot tree, even without fruit, is a lovely ornamental. Some varieties may be easier to grow in Missouri, such as Harglow, Wilson and Goldcot.
Prepare to plant a bare-root, dormant apricot tree in late March or early April. In Missouri, it is vitally important to plant the tree no later than the second week of April.
Choose an east-facing site in order to catch the early morning Missouri sun. The site must get sun all day and have well-drained soil. The apricot tree is tolerant of a wide range of soil textures and pH, but must not sit in water for extended periods.
Place the roots of the apricot tree in a bucket of water and allow them to soak overnight.
Dig a hole three times the width of the root ball and 1 foot deep. At the bottom of the hole, mound up a hill of soil.
Place the apricot tree so that the bud union (the area where the tree was grafted, a bump on the lower portion of the tree) is facing northeast.
Spread the roots out in all directions and place the tree on top of the hill you created within the planting hole. The roots should drape down over the hill.
Backfill the hole halfway with soil and then fill the hole with water. When the water drains, finish filling the hole with soil. Tamp the soil around the tree with your feet.
Build a watering ring around the tree. Compact and mound soil, 8 inches thick and 5 inches in height, and use it to form a ring around the tree. Place the ring one foot away from the trunk.
Fill the watering ring with water. When the water drains, lay a 3-inch layer of mulch around the diameter of the tree, within the ring, keeping it 2 inches away from the trunk.
Tips
Fertilize the tree for the first time when growth begins in the spring. Dilute the fertilizer to half the strength recommended on the packaging for the tree's first two years.

Most apricot trees do not bare fruit until three to five years after planting.