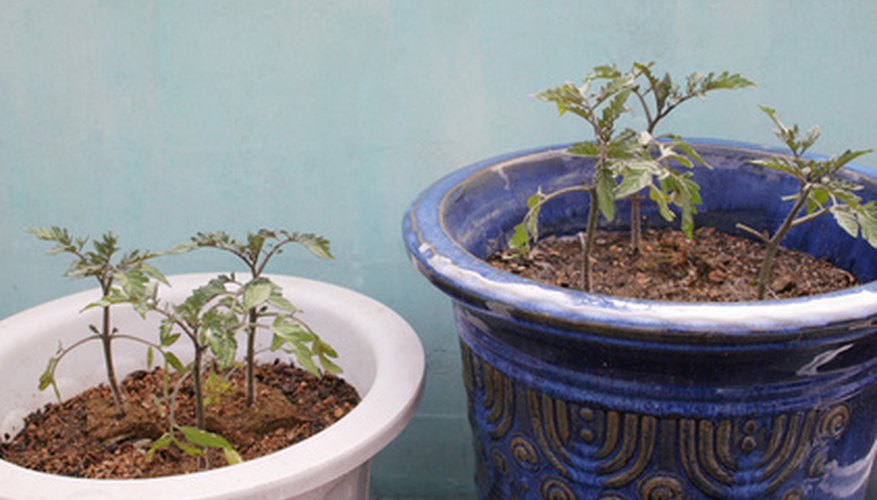 Tomatoes are arguably the most-grown vegetable in home gardens. They grow easily under a wide range of soil and weather conditions and they produce a tasty fruit. Additionally, eating tomatoes, with their high concentrations of lycopene, may have long-term health benefits. One way to start tomatoes is by seeds, and one of the surest ways of sprouting tomato seeds is to use a product such as Superthrive.
Fill a growing pot (with a drain hole) with potting soil and set the pot into a shallow pan.
Add 1/2 teaspoon of Superthrive (available at most nurseries and garden centers) to 1 gallon of warm water.
Pour the Superthrive solution into the pan in which you have placed your growing pot and allow the Superthrive to be soaked into the pot through th drain hole in the bottom of the pot. As the Superthrive is soaked into the pot you may need to add more to the pan. Remove the growing pot when the top of the soil is damp with the Superthrive solution. This could take as long as an hour. Save any leftover Superthrive solution as you can use this for watering your sprouts later.
Set the growing pot in an empty shallow pan and let any excess Superthrive drain out overnight.
Plant your tomato seeds 1/8 inch deep in your growing pot and cover lightly with the Superthrive-soaked soil in the pot. Press gently on top of the seeds to ensure that they are in contact with the soil.
Place your growing pot inside a plastic bag and seal it, forming a mini greenhouse. Set your enclosed growing pot in a sunny location where it can be kept warm (70 t0 75 degrees F). Your tomatoes should sprout within 7 to 10 days. Water your new sprouts with your left over Superthrive solution.