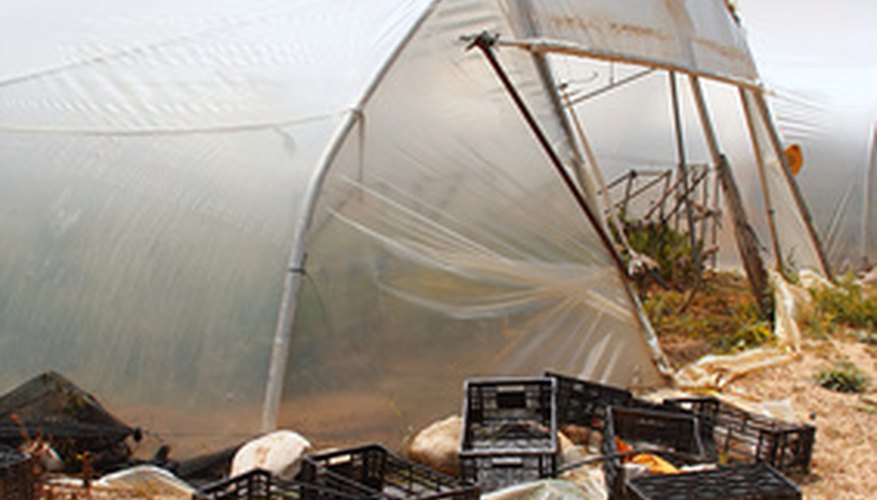 Virginia is a coastal state that primarily falls between the USDA hardiness zones of 6 and 7. This means that the average low temperatures for winter in Virginia range from 5 degrees to minus-10 degrees Fahrenheit. Virginia's mild costal climate will allow gardeners to grow cool-season vegetables such as broccoli, carrots and lettuce in winter as long as the vegetables are provided with protection from frost and freezing temperatures. One of the easiest methods of growing winter vegetables is through the use of an inexpensive greenhouse.
Construct raised beds to house your greenhouse vegetables. The soil in a raised bed will heat faster in the warm environment of a greenhouse. Raised beds will also overcome soil challenges posed by the clay-like mountainous Piedmont soil of western Virginia as well as the salt-laden tidal soil of the Virginia coastline. The easiest method of constructing raised beds is to nail together 2x4 boards into a box shape. Raised beds can be as long as you like, but should be no more than 4 feet wide for ease of cultivation. One good configuration for a greenhouse is to place raised beds along the walls of a greenhouse and leave a path down the center for you to walk down.
Pound lengths of 3-foot rebar at least 1 foot into the ground around the outside perimeter of your raised beds. Each rebar stake should line up with a rebar stake on the opposite side of the greenhouse.
Purchase PVC conduit in 24-foot sections. Slip one end of your PVC conduit over a section of rebar. Flex the conduit into an arch and slip the other end over the rebar on the other side of the greenhouse. Do this for each set of rebar stakes to create the greenhouse framework.
Stretch 12-gauge wire over the top of the greenhouse, wrapping each piece of conduit as you go to create a ridge along the top of the arch. This will improve the stability of your greenhouse.
Stretch polyetheline greenhouse plastic over the top of your greenhouse. Roll the sides and staple them to the exterior of your raised beds with construction staples. Weigh down the ends of the greenhouse with cinder blocks. Lift these ends to vent the house on sunny days when the temperature rises.
Fill raised beds with a mixture of 1 part sand, 1 part peat moss, 2 parts compost and ½ part manure. Plant cold-tolerant vegetables in your greenhouse. Cold-tolerant vegetables will grow throughout mild Virginia winters.