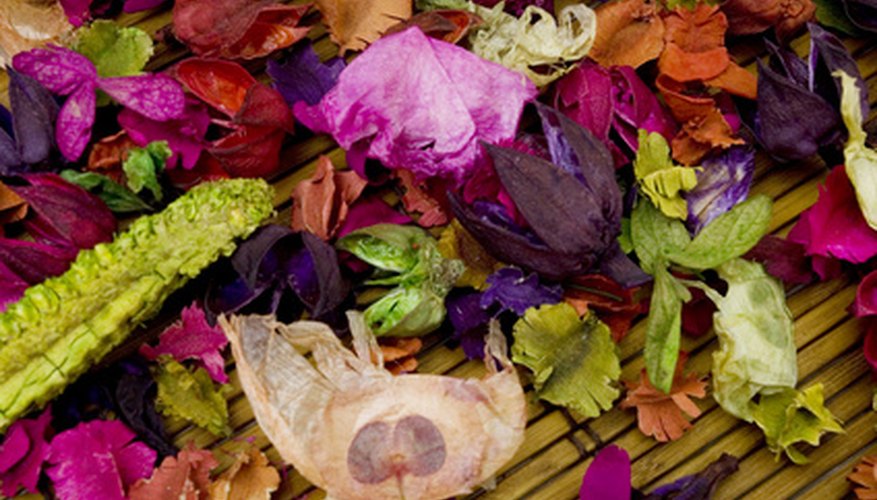 Turn dried flowers from a special event or a memorial service into beads, using liquid resin and metal jewelry findings. Dry your flowers by hanging them upside down in a cool, dark space or by microwaving them in silica gel. Silica gel is available from most craft stores and may be reused. Small flowers, such as miniature rose buds, pansies, forget-me-nots and sprigs of baby's breath, fit nicely into beads for charm bracelets. Medium-sized flowers, such as daisies or larger varieties of roses, will make beads for pendants or pins.
Spray one side of your dried flower with a clear floral glaze, and allow the glaze to dry. Flip your flower over, and spray the other side with clear floral glaze, and allow the glaze to dry.
Place a strip of clear package tape across the back of a jewelry bezel. Place the bezel, tape side down, on a flat work surface.
Mix the resin in a squirt bottle, according to the package directions. Squirt a small amount of resin into the opening of the bezel frame.
Rest your dried flower in the center of the bezel, on top of the resin. Squirt more resin on top of your flower, to the top of the bezel rim. Allow the resin to dry completely.
Remove the tape from the back of the bezel. Hang your dried flower bead on a necklace or bracelet.
Things You Will Need
Dried flowers

Clear floral glaze

Bezel settings

Package tape

Resin

Squirt bottle
Tip
Bezels are metal frames available in a variety of shapes and sizes. Bezels for bead making have loops already molded into the top so you can hang the bead on a chain or thread it over beading cord. Your bezel should be larger and deeper than the overall size of your dried flower.
Warning
Work with resin in a well-ventilated area.
Resources