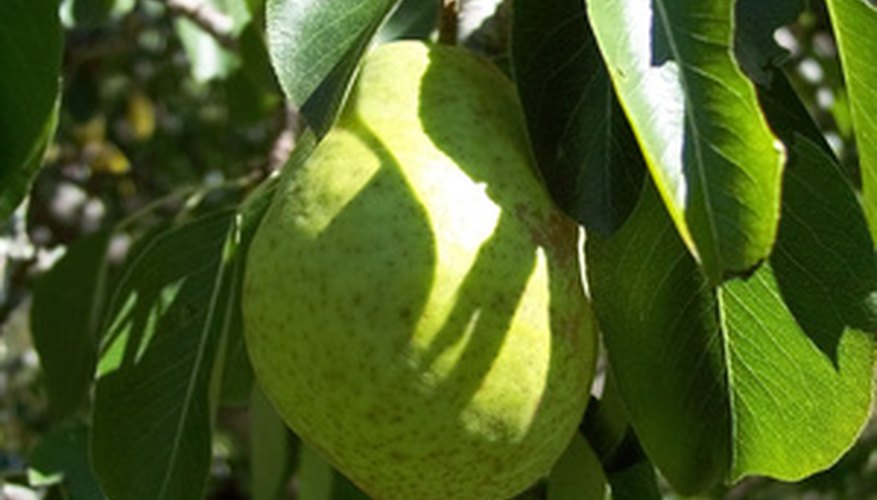 If your pear tree stops bearing fruit, or if you move to a location with a non-bearing pear tree, there are steps you can take to encourage the tree to be fruitful again. Evaluate the tree to make sure it's healthy enough to save. Look for signs of rot in the trunk. Old trees are often standard-sized varieties, which can grow quite large and be difficult to maintain. If you are ready to commit to the upkeep required of such a tree, including regular pruning and spraying to prevent disease and pests, then you may be able to bring the tree into production again over a period of several years.
Prune the tree back the first year. Steve Renquist, a horticulturalist with Oregon State University, recommends cutting a tree that is 20 feet tall or taller back by 6 to 8 feet. Prune the main branches back to a prominent side shoot. Remove any dead, hanging or crossed branches. Focus on thinning the upper third of the tree canopy to let in more air and light. Use the ladder and the pruning saw.
Remove any strong new shoots from the upper portion of the tree during the first summer after your initial pruning. Clip shoots with the pruning shears.
Prune up to 2 more feet of height from the main limbs the following winter. Shape the tree to open the center.
Remove half of the new shoots from the tree the second summer.
Spread compost under your tree to the drip line of the outer leaves to discourage weeds and add nutrients to the soil.
Spray the tree with dormant oil and a fungicide in the winter to protect against pests and disease.
Things You Will Need
Ladder

Pruning saw

Pruning shears

Compost

Dormant oil

Fungicide
Resources