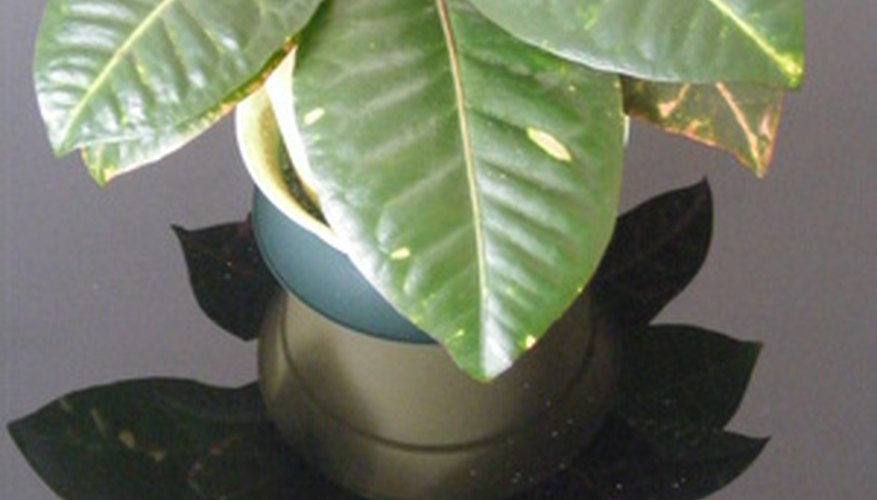 A plant shelf is a recessed area or shelf built into the wall of a home. The shelves range in height from 12 inches (for shelves built into the wall) to over 12 feet tall (for shelves above doorways in homes with two-story walls). The irony of the plant shelf is that its height often makes it difficult to grow plants on it. Watering and caring for plants on a plant shelf may require a ladder and a long-spout watering can. Instead of placing greenery on a plant shelf, most homeowners fill these spaces with decorations.
Decorate your plant shelf with holiday decor. Depending on the height of your plant shelf, place a mini-Christmas tree or a large vase full of ornaments on the shelf. In religious Christian households, a size-appropriate nativity scene works well. Accent the central element on the shelf with Christmas lights. During Easter, place an Easter tree or a basket filled with Easter eggs on the plant shelf. Use white or pastel-colored lights for accent.
Place collections of vases or bottles for display on the plant shelf. For best effects, the vases or bottles should be in various sizes and shapes, but with a common color palette. For instance, bottles in shades of blues and green work well together, as do bottles in shades of brown, orange, and red.
Display a collection of baskets on your plant shelf. Lay baskets in various shapes and sizes on the shelf, and mount some flat-bottomed baskets on the wall(s) above the shelf.
Put up a collection of empty wine bottles if you are a wine lover. Use faux grapes as accent pieces. The faux grapes can surround bottles of wine and/or be draped gently over the edge of the shelf.
Tie in your room's decor theme with a display on your plant shelf. For instance, in a kitchen, an open picnic basket with faux fruit and empty bottles of wine make a nice addition to the room. In an Asian-themed living room, use a large Asian vase in the center of the plant shelf. If room allows, place a Japanese tea set on the shelf along with the vase.