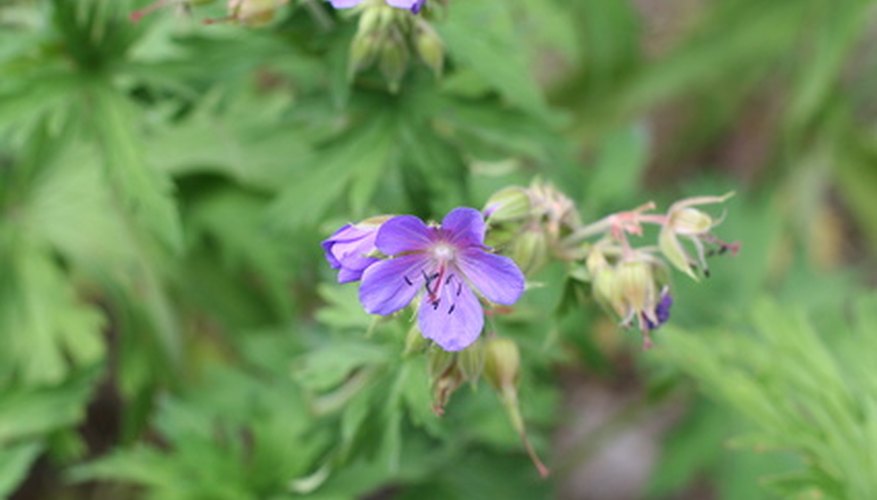 The state of Virginia falls within a humid coastal climate zone. Virginia inhabitants typically experience mild, muggy summers and cool, wet winters. If you live in Virginia, select native plants according to bloom time, flower color, intended use and general culture. Various flowering plant varieties naturally occur in Virginia landscapes.
Mapleleaf Viburnum
The mapleleaf viburnum (Viburnum acerifolium), also known as the arrow-wood, belongs in the honeysuckle family (Caprifoliaceae) and naturally occurs in thickets and ravines across Virginia. This perennial shrub ranges from 4 to 6 feet in height and 3 to 4 feet in width. White flower clusters bloom from April through August, giving way to dark purple or bluish-black berries. The mappleleaf viburnum also bears deep green leaves that turn an attractive, pinkish-purple shade in the fall. This shrub tolerates various lighting conditions, but prefers dry, acidic soils. The mapleleaf viburnum typically performs well in bird gardens and woodland gardens.
Virginia Sweetspire
The Virginia sweetspire shrub (Itea virginica), sometimes called the tassel-white shrub, forms mounds ranging from 3 to 8 feet in height. This Saxifragaceae plant family member features tassels of tiny, nodding, white blossoms from April through June. The green leaves take on red or purple tones in autumn and winter. This shrub prefers moist, acidic soils in partially shady positions. Virginia gardeners often use the Virginia sweetspire in swamp margins and along stream banks.
Virginia Iris
The Virginia iris (Iris virginica), also called the southern blue flag and the great blue flag, belongs to the Iridaceae plant family and bears thin, deep green leaves. This bulbous perennial features showy, blue, pink or white flowers that appear in May. The Virginia iris prefers rich, moist soils in areas that receive plenty of sun. This Virginia native plant generally performs well when planted along swamplands, drainage ditches, ponds and lily pools.
Virginia Bluebells
Virginia bluebells (Mertensia virginica) belong to the borage plant family (Boraginaceae) and thrive in moist, rich soils across Virginia. This perennial bears large, grayish-green leaves and arched stems that reach between 12 and 24 inches in height. This native Virginia plant also features clusters of small, pale blue, pink or light purple flowers. These bell-shaped blossoms appear from March through June. Virginia gardeners often plant Virginia bluebells in perennial flowerbeds, shaded woodland gardens and shady borders.
Spotted Geranium
The spotted geranium (Geranium maculatum), sometimes called the cranesbill or the wild geranium, features conspicuous, white, pink or light purple flower clusters that bloom from March through July. This Geraniaceae plant family member also bears semi-evergreen leaves and stems that range from 12 to 24 inches in height. This geranium variety prefers moist, acidic soils in partly to fully shady locations. Virginia gardeners often use the spotted geranium in woodland gardens, wildflower meadows, native plant gardens and shade gardens.