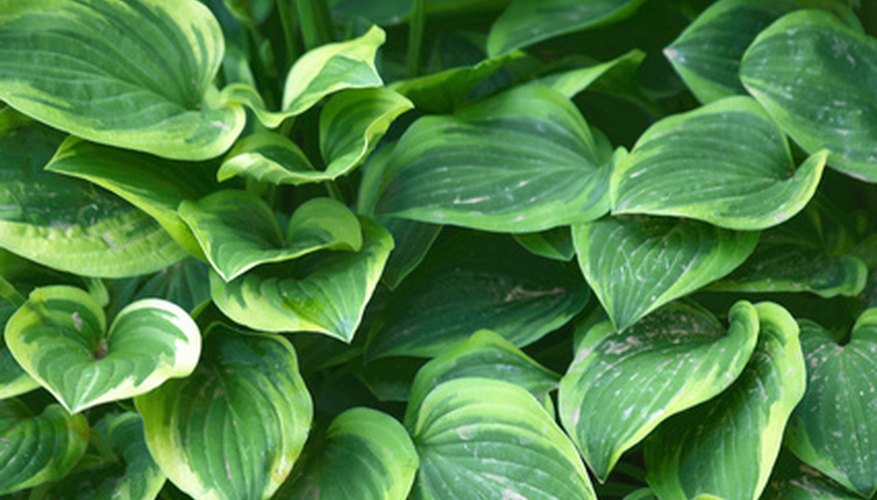 Bordering a garden adds a finishing touch to the flower bed. Borders can consist of hardscape materials such as brick, cement or wood that lines the garden edge. This type of edging frames the garden space, accenting shrubs and trees with defining lines in the landscape. Foliage and flowers soften the look of a garden's sharp physical edge. Perennial plants for borders tend to be low-lying plants or ground covers that mound along the garden's edge. These plants mark the garden boundary and gradually encourage the viewer's eye to lift upward to view the successively larger plants in the garden bed.
Hosta
Gardeners often use dramatic foliage plants to draw attention to the wildly blooming interior portion of the garden. Hostas serve as a striking frame for a perennial or annual flower garden with thick foliage. Hosta drape over garden edges with thick, rounded leaves. These fast-growing plants grow quickly and reach heights of about 30 inches. Hosta thrives in locations in USDA hardiness zones 3 to 8 and prefers partial-to-full shade. This lovely plant comes in a wide variety of different foliage colors, including medium-green as well as variegations of white and yellow. Allow plenty of room for the low-maintenance hosta to spread and this plant will never disappoint with its unique purple flowers that arrive in late summer.
Blanket Flower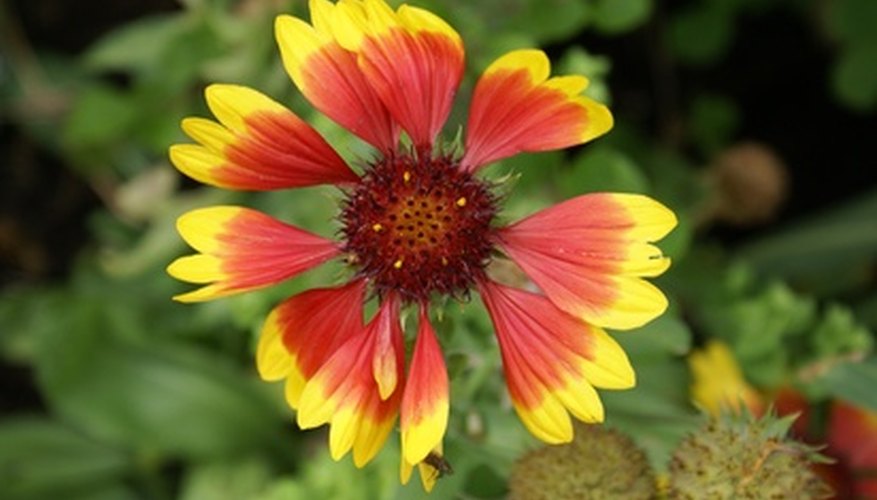 Border plants don't always have to feature low-lying characteristics to serve as a lovely frame for a garden. Plants such as the blanket flower draw attention to garden edges to create dramatic impact in the landscape. Blanket flowers feature simple, dark green foliage and a stunning daisy-like flower. Flowers feature a magenta center and deep red petals with yellow tips. This plant provides abundant cutting flowers and attracts plenty of wildlife in the form of bees, butterflies and birds. Blanket flowers include cultivars that grow up to 36 inches in height, making this plant ideal for a mature garden that features taller plants. Blanket flowers like full sun and good drainage; they grow best in gardens in zones 2 through 10.
Basket of Gold
Basket of gold delivers on its name with a draping form that can be used to accent border areas of the garden. The flowing foliage makes an ideal choice for wood borders, rocks or retaining walls. Basket of gold grows up to 12 inches in height and produces clusters of yellow flowers in the spring. This plant has a mounding growth patterns that's perfectly suited for garden borders. Basket of gold works best in flower beds in zones 3 through 7. Choose a full-sun location for this plant and provide well-drained soil for best results. The gray-green, oblong leaves provide consistent texture as a border plant throughout the growing season.