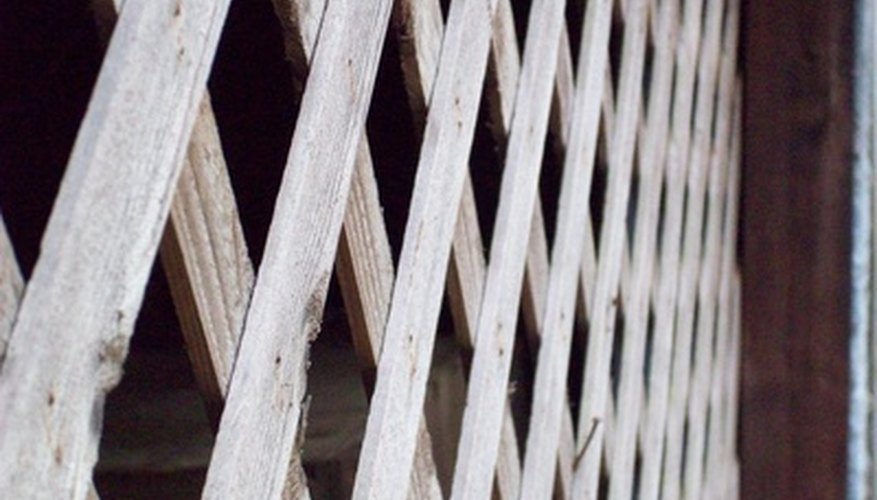 Vine plants add visual height to the landscape by decorating lattice and fence areas with blooms and foliage. Choosing annual vines for the home landscape offers an option of a single season plant that doesn't require the upkeep of a perennial vine. Plant shade-growing annual vines after the last frost as you would any other annual plant. Consult seed catalogs to obtain seeds for growing annual vines since many nurseries don't carry this type of plant.
Black-Eyed Susan Vine
We normally think of black-eyed Susan as a daisy-like flower that stands alone in the perennial garden. A different variety includes that annual black-eyed Susan vine that grows to a height of 8 feet. This climber tolerates full sun to part shade and needs well-drained soil to produce flowers throughout the summer. Flowers are bright yellow or orange with a brown center. Black-eyed Susan vines perform well on trellises as well as an accent plant in the garden and hanging baskets. This fast growing plant prefers a cooler location in the garden so protect it from heat.
Mandevilla
Mandevilla prefers a partial shade location to thrive in the outdoors. This beautiful vine grows up to 10 feet tall, winding around trellis or fences with shiny leaves and trumpet-shaped flowers. Flower colors include pink, yellow, red and white. Choose soil with good drainage and plenty of organic material such as peat moss to promote healthy plant growth. Mandevilla also grow very well in container gardens as long as the gardener provides proper support for this climber. This annual vine can be wintered inside a greenhouse or home by decreasing the frequency of watering in the early fall. Protect this tender annual from frost and temperatures below 50 degrees F.
Canary Creeper
This cousin of the nasturtium thrives in just about any soil conditions. Canary creeper features yellow flowers that attract cabbage moths during the summer blooming period. Flowers appear fringed on the upper portion of the flower with two petals dropping to each side. This plant produces interesting lobed leaves with rounded tips that provide a beautiful contrasting background for the beautiful flowers. Canary creeper grows up to 12 feet tall and prefers the support of a trellis, fence or arbor although the plant will creep across a flower bed. Container-grown plants can be moved inside to over-winter the plant for the following growing season.