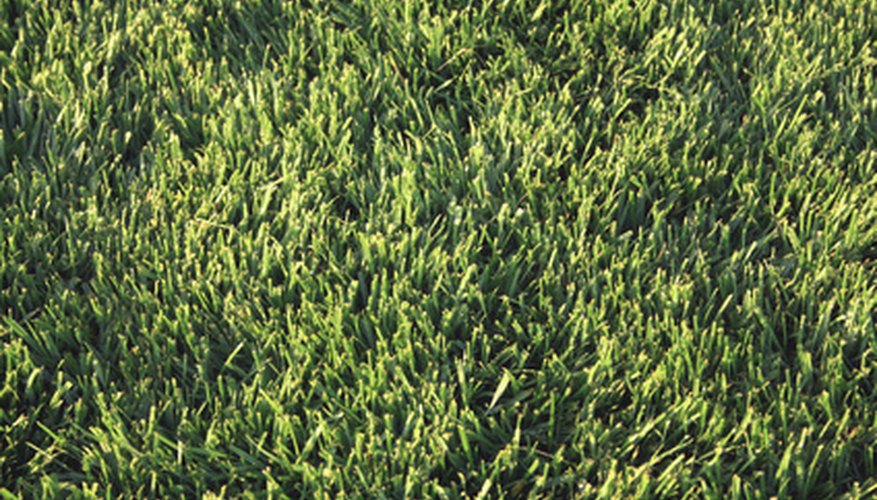 Bermuda grass is native to Africa, known for its ability to thrive in warm weather and to withstand tough circumstances. You can plant it by seed, by sprigs or by plugs. The plugs are usually 2-inch by 2-inch square or round plugs of established grass that you cut out from a section of sod. You can expect to have a full lawn within three months of planting as long as you plant them close enough to each other. The optimum time for plugging a lawn is early spring while the temperatures are still cool compared to summer.
Check the pH level of your soil as soon as possible before planting the lawn to determine if the soil is ready for the addition of Bermuda grass. Purchase a simple kit at a garden center and test the soil according to the kit directions. It takes time for adjustments in the soil to take effect, so the earlier you can test the soil and apply the proper adjustments, the better. Bermuda soil requires a soil pH of 6 to 6.5 for optimum growth.
Remove any rocks, sticks or other debris by raking with a lawn rake. The optimum treatment involves tilling the dirt down about 6 inches and then raking. Another option for poor soil is to drop new soil at the site so that your lawn has a good layer of loose soil to grow in, but this will add another expense to your project.
Calculate how much sod you will need by by multiplying the width of the lawn times the length to determine the square footage. The Alabama Cooperative Extension recommends 3 square yards of Bermuda grass sod to plug 1,000 square feet. Divide the square footage of your yard by 1,000 and then multiply by three to figure the number of square yards of sod to get.
Dig holes in the prepared site with a sod plugger, spacing them 12 inches apart from each other. This will ensure that the actual size of the hole is the same size as the plugs you cut from your section of sod. Do not cut the sod until you are ready to use it. Keep it moist and shaded if possible. Cut your sod with the same tool you made the holes with--the sod plugger. Lay the sod on the ground, press, twist and lift to remove the grass plug. Press this sod plug into the hole and press it down with your foot to make sure it makes good contact with the soil.
Water the new plugs every day or at least check to make sure the soil stays moist until you see new growth, signifying that the roots have taken hold and are growing.
Things You Will Need
Lawn rake

Sod plugger

Bermuda grass sod