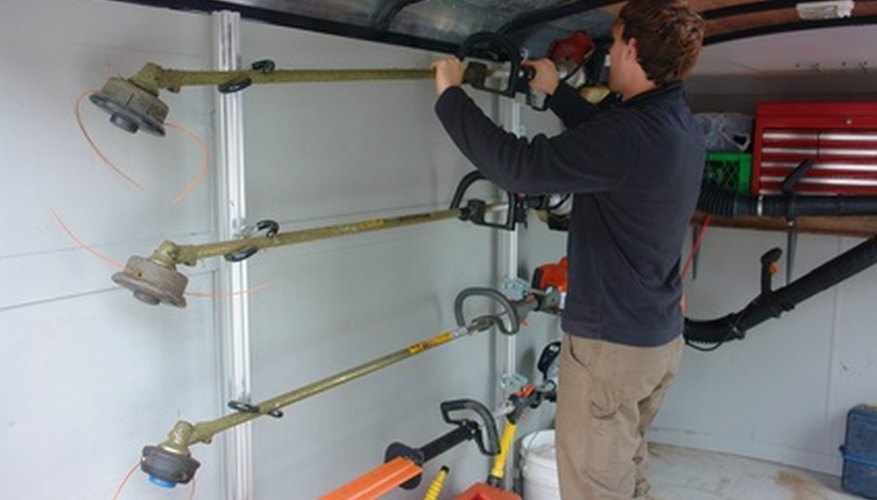 Toro is a the parent company name of a brand that produces lawn care products that range from personal equipment to heavy-duty equipment for landscapers and golf course maintenance. The company manufactures a personal trimmer that uses a monofilament line for light-duty cutting over rough terrain and in tight corners where a lawn mower can't go. Regular maintenance includes replacing this monofilament cord occasionally.
Remove the cap and spool from the rotating head of the trimmer by turning the cap and spool counterclockwise to loosen it and pulling it away from the trimmer head.
Grasp the cap in one hand and the spool in the other and gently pull them apart.
Wipe the cutting head, spool and cap clean and inspect them for damage.
Unwind any monofilament line left on the spool and discard it. Cut a length of 25 feet of monofilament line.
Insert one end of the line into the monofilament line slot on the spool. Wind the line around the spool in the direction indicated by the arrow printed on the side of the spool. Do not allow the line to cross as you wind it.
Hold the spool in one hand and the line end in the other. Slide the line into the eyelet on the head of the trimmer. Insert the spool into the head.
Hold the line and spool in place with one hand. Put the cap onto the spool. Rotate the cap and spool clockwise to secure them in place.
Things You Will Need
Cleaning cloth

Utility knife
References