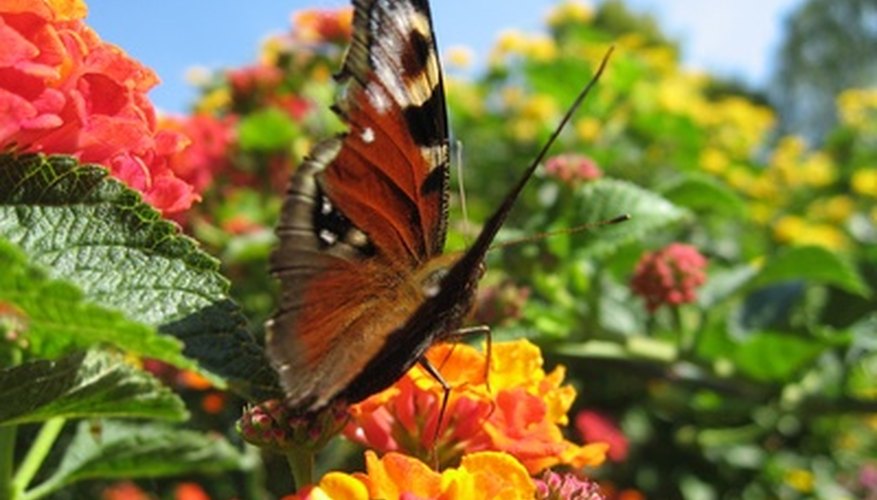 While forsythia's bright yellow blooms, and white and pink apple blossoms are familiar indicators of spring, orange spring-flowering shrubs may be more surprising choices for your garden. Paired with sunny daffodils, deep blue hyacinths and scarlet or purple tulips, orange flowering shrubs create a brilliant spring palette. Covering a spectrum of shades from golden tangerine to burnt orange, these shrubs create eye-catching spring garden displays.
Texas Lantana
An aromatic shrub of the verbena family, Texas lantana is a native perennial in the Lone Star State. This shrub, however, has found wide acceptance elsewhere as a summer-blooming annual. Its long blooming season--from April to October--and multi-colored blooms of orange, yellow and red brighten gardens from spring to fall. Bluish-black fruits that follow the flowers provide additional interest. Butterflies flock to the lantana's flowers.
Growing between 3 and 6 feet high, Texas lantana likes full sun and dry, poor well-drained sand, loam or clay soil. In temperate areas, its spreading habit makes this shrub an excellent perennial ground cover for soil where little else will grow. Older plants develop thorns.
Scarlet Globemallow
A small--rarely more than 1-foot-high--shrub, scarlet globemallow (Sphaeralcea coccinea) compensates for its lack of stature by forming clumps or large colonies. From April to September, it produces clusters of five-petaled orange-red flowers on attractive red bracts. The flowers' white centers and yellow stamens add to their appeal. White down covers the shrub's narrow green leaves.
Scarlet globemallow grows wild on desert plains from Saskatchewan in Canada as far south as northeastern Texas. Native Americans used its crushed leaves in poultices to treat blistered skin. Plant this shrub in full sun and dry, limestone-rich or sandy soil.
Flame Azalea
Southern native flame azalea (Rhododendron calendulaceum) brings a rainbow of orange hues to the Appalachian mountain slopes in late spring. The 6-to-12-foot shrubs' heavy clusters of vase-like blooms range in color from apricot to red orange, made brighter against a backdrop of medium-green leaves.
Like all azaleas, flame azalea likes partial shade--it needs some daily sun to perform its best--and acidic, moist well-drained soil. In proper conditions, its bloom will continue as long as two weeks. All parts of flame azalea are toxic if ingested.
Hummingbird Bush
Hummingbird bush (Justicia californica), says the Lady Bird Johnson Wildflower center, makes a wonderful addition to water gardens. Found wild in the desert washes of southeastern California and southern Arizona, hummingbird bush is a succulent shrub that reaches up to 4-feet high. Between March and June, the shrubs produce spikes of yellow, orange or red nectar-laden tubular flowers, which are ideally shaped to fit hummingbirds' bills. Birds also feed on the flowers.
Although it's a desert native, the hummingbird plant can't tolerate full drought conditions. It will survive even if partially submerged in water. Plant it in full sun and rocky soil. The shrubs colonize by underground stems.