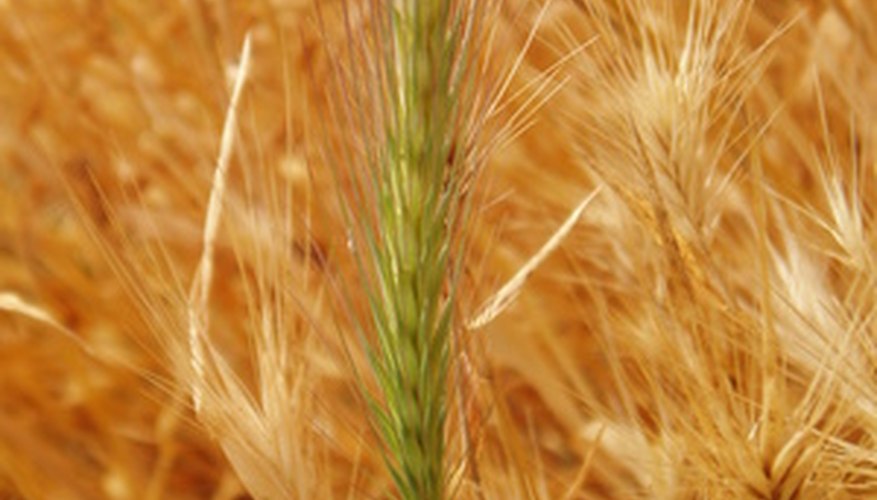 Creating a wildlife refuge is an option for nearly any gardener. It does not require special equipment. After the initial work is done, native plants usually can take care of themselves, making upkeep of a wildlife garden less time consuming than a regular landscape. Finding just the right plants, in this case grasses, can seem like a daunting task. It does not have to be. There are many species perfect for adding to a wildlife garden. Also, take into consideration that planting grasses with edible seed will attract rodents along with the more favorable songbirds. Rodents can attract predators and mice are attracted to seed producing grasses.
Indian Rice Grass
Indian rice grass (Achnatherum hymenoides) produces airy sprays of minute, tan-colored seeds that hang over the plant like a mist. It grows 1 to 2 feet tall and has a bunching habit. Many species of animals feed on the seeds. In the garden, Indian rice grass makes attractive mass plantings as well as a filler between taller grasses. Once established this plant is drought tolerant and will self-seed freely.
Wiregrass
Wiregrass (Aristida stricta Michx.) is a small, bunching grass that retains a uniform shape in the garden. It grows to about 2 feet tall. Its neat habit makes it a good candidate for more formal wildlife gardens. S. stricta may be considered difficult to keep going, as the plants require fire in order to set seed. This plant prefers fast-draining, sandy soils. Deer and Bachman's sparrows eat the seeds and foliage of A. stricta.
Pine Dropseed
Pine dropseed (Blepharoneuron tricholepis) grows to just 12 inches tall. Heavily tufted and bunching in habit, pine dropseed produces a light spray of seed heads that hover just above its sparse green foliage. Rodents, birds, livestock and other ruminants consume pine dropseed. It prefers well-drained soils but can adapt to grow in most soil types.
Silver Beard Grass
Silver beard grass (Bothriochloa laguroides ssp. torreyana) grows to 18 inches tall. When in bloom the stalks can span 3 feet above this. B. laguroides offers excellent fall colors in shades of red, purple and orange. Its seedheads are white and showy. This plant is attractive to birds and mammals. Silver beard grass prefers well-drained soils and plenty of sun.
Sideoats
Sideoats (Bouteloua curtipendula) grows to 3 feet tall. Its seedheads are showy, looking their best when planted closely together. This plant has a bunching growth habit and spreads readily by seed. Birds especially like the ripened seeds of B. curtipendula. Sideoats offer fall color in shades of red or purple and are excellent choices for prairie and other wildflower gardens.